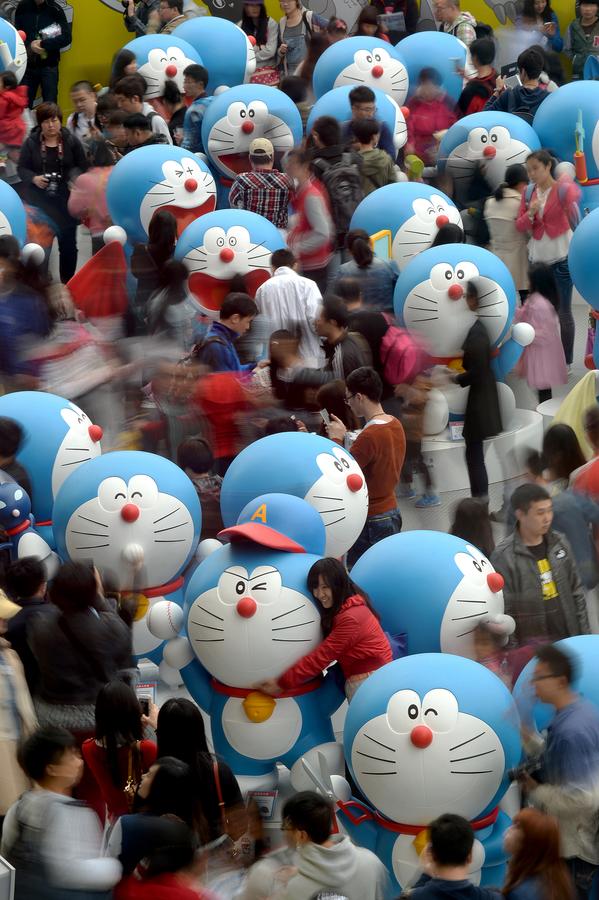 People view Doraemon figures at an exhibition of "100 Doraemon Secret Gadgets Expo" in Beijing, capital of China, April 19, 2014. The exhibition kicked off here on Saturday. A hundred life-size Doraemon figures, each of which bearing a distinct secret gadget, were displayed during the show. Doraemon, a 22nd-century robotic cat, has been a popular anime character since its introduction by Japanese cartoonist Fujiko Fujio in 1969. [Xinhua/Li Xin]
If you are a cartoon lover, you probably don't want to miss "100 Doraemon Secret Gadgets Expo".
A total of 100 life-sized Doraemon models with different gestures and facial expressions are standing at Joy City in Chaoyang district of Beijing from April 19 to June 22, 2014.
Hailed as the largest exhibition featuring Doraemon in the Chinese mainland, the 100 Doraemon Secret Gadgets Expo revives the nostalgia of Chinese post-1980 and even post-1990 generations when they waited before the television screen to watch the popular cartoon.
In the popular Japanese manga series, Doraemon is a robot that traveled back in time from the 22nd century to help a hapless boy Nobita Nobi with every kind of futuristic gadgets imaginable.
The earless blue cat-like robot has a magic pocket from which he takes out gadgets and devices to punish bullies and to make the boy's wishes come true. More than 1,000 gadgets have been developed since the cartoon was created in 1969.
In the current exhibition, each of the 1.2-meter-tall Doraemon is equipped with a different bizarre gadget. The Bamboo Dragonfly, for example, is a bamboo propeller that can be attached to the head and help one fly anywhere. The Memory Bread is the dream gift for academically poor students: Put the bread on one's textbook and then have the bread, and the content of the textbook will be engraved in your mind.
Alongside the alfresco exhibition, there's a collection of Doraemon Secret Gadgets in the basement of Xintiandi Style Mall, showcasing more than 30 of the secret gadgets that appeared in the cartoon, such as the time machine and the pink anywhere-door - a door that enables people to go to wherever they want to.
The expo has visited to Hong Kong, Taiwan, Shanghai and Guangzhou since 2012.
We Recommend: