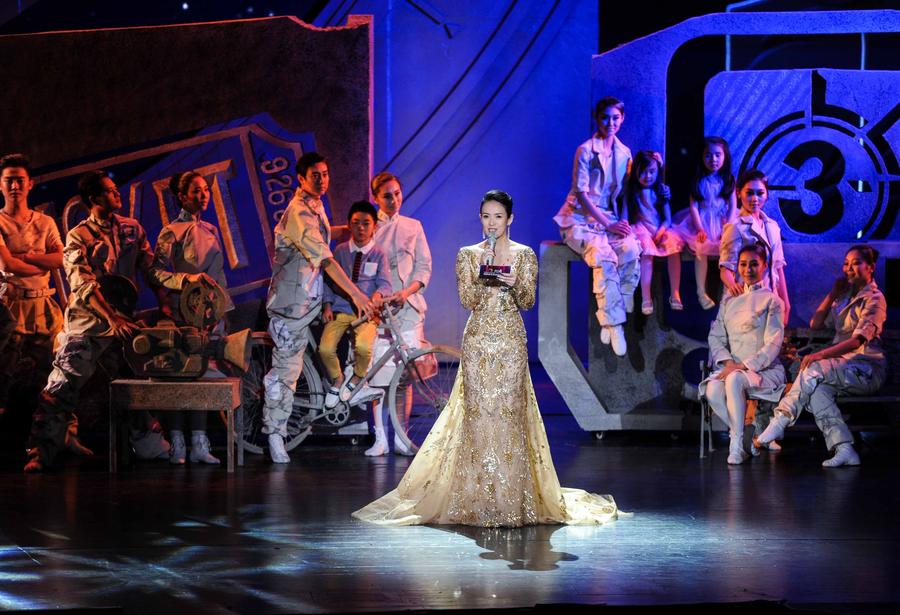 Actress Zhang Ziyi recites during the opening ceremony of the 4th Beijing International Film Festival in Beijing, capital of China, April 16, 2014. The 8-day-long festival kicked off on Wednesday. [Xinhua/Luo Xiaoguang]
The 4th Beijing International Film Festival kicked off in Beijing, capital of China on April 16, 2014.
This grand gathering of the global film industry will present seven themed segments: Tiantan Awards competition, Opening Ceremony, Film Panorama, Film Forums, Film Market, Film Carnival and Closing Ceremony and Awards Ceremony.
Of all 837 participating films from across the world, 15 will be nominated for this year's Tiantan Awards, which include 10 awards in total: Best Feature, Best Director, Best Actor, Best Actress, Best Supporting Actor, Best Supporting Actress, Best Screenplay, Best Cinematography, Best Music and Best Visual Effects.
Competing films include Wong Kar-wai's The Grandmaster and Peter Chan's American Dream in China, as well as Ilo Ilo, the Golden Horse Award winner for Best Film. The festival was opened by Beauty and Beast, a French film based on the fairy tale.
Hong Kong director John Woo leads a seven-person jury that includes director Lu Chuan, Irish director Jim Sheridan and Italian actress Maria Grazia Cucinotta.
The festival will close on April 23.
The BJIFF, established in 2011, is an annual event hosted by the State Administration of Radio, Film and Television (SARFT) and Beijing Municipal People's Government. It is co-organized by the SARFT's Film Bureau and Beijing Municipal Bureau of Radio, Film and Television.
It's a high-end platform for the exchange and cooperation among film producers and distributors, film institutions, as well as film stars from home and abroad.
We Recommend: