In recent years, art, especially Chinese items, have been auctioned at sky-high prices. In 2013, Dalian Wanda Group, a real estate and entertainment conglomerate in China, snapped up a Picasso painting titled Claude et Paloma for $28.16 million (172 million yuan), more than double its estimated price, at a Christie's auction in New York City. In April 2014, a doucai "chicken cup" from the Ming Dynasty (1368-1644) fetched HK$281 million ($36 million) to set a new record for a Chinese porcelain item sold at auction.
Doubts about the market bubble are permeating. What factors are behind the sale prices reaching into the millions? Is it the charm of art itself or just hype? According to Guangzhou Daily, there are three reasons for the high prices.
The first is that the artworks are auctioned to collectors or to be given as gifts.
The second is that the overall price is pushed up to make more people want to invest in the market and pick up the artworks. "With a billion dollars of art as the benchmark, HK$5 million to HK$10 million of goods will naturally have more buyers," said Mr. Xiong, an expert. He considers this the normal practice conducted by dealers – to make sky-high prices abroad and produce a domino effect at home.
The third is to raise funds through high-priced items on the auction market by means of funds, trust and private equity.
Let's recap those items that have been auctioned at sky-high prices.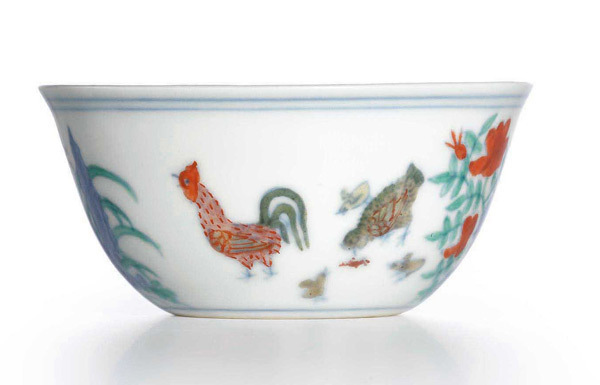 In April 2014, a doucai "chicken cup" from the Ming Dynasty (1368-1644) fetched HK$281 million ($36 million) to set a new record for a Chinese porcelain item sold at auction. [Photo provided to China Daily]
We Recommend: