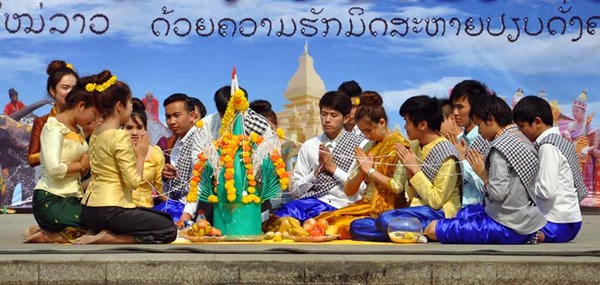 Overseas students pray before splashing water. [Photo provided to chinadaily.com.cn]

Guizhou Minzu University, in Guizhou province, celebrated Songkran Festival, a water festival, on April 14, for overseas students from Southeast Asian countries such as Thailand, Laos and Vietnam.
The traditional New Year festival is celebrated in these regions, lasting for three to seven days, with people splashing water on each other to express blessings.
Zeng Li, associate dean of the school of international education of Guizhou Minzu University, said she felt strange at first when more than 30 overseas students came to ask for leave from April 13 to 15.
"I decided to celebrate the festival on campus for the overseas students the moment I knew they were heading home for the Songkran Festival," Zeng said.
"We celebrated the day here just like before, and I felt at home when we were splashing water over each other," said Hsin-Chih, a freshman from Laos who studies at the university.
Guizhou Minzu University is the first university in Guizhou province to celebrate the Songkran Festival for overseas students.
Guizhou now has no more than 600 overseas students, with 70 at Guizhou Minzu University in 2013 as the university recruited overseas students on a large scale, Zeng said.
"We attach more and more importance to international education," she said.
We recommend: