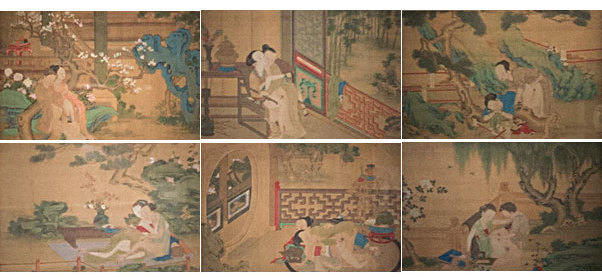 Pieces of the collection from Ferdinand M. Bertholet are on display at the Sotheby's Hong Kong Gallery in Hong Kong Tuesday, April 15, 2014. [Photo/icpress]
The exhibition "Gardens of Pleasure: Sex In Ancient China" will be on display at the Sotheby's Hong Kong Gallery in Hong Kong from April 16 to May 3. The exhibition features more than 100 pieces of ancient Chinese erotic art from the Ferdinand M. Bertholet Collection, with objects dating from the Han Dynasty (BC 206-220) to the Qing Dynasty (AD 1644-1911).
"I am so glad to hold the exhibition at the Sotheby's Hong Kong Gallery, and this is the first time to share my collection with art lovers in Asia. It was about 35 years ago, I began the journey for collecting erotic art since I visited an antique store in Hong Kong. Occasionally, I found seven pictures in one album that showed delicate Chinese erotic art paintings and I had never seen an excellent work like this, then it started my collection desire. I hope to let these heritage art pieces revisit Hong Kong through this exhibition as well as showing my respects to Chinese erotic art, " said Ferdinand M. Bertholet.
"We are very pleased we can hold the first Chinese erotic art exhibition. The precious collections have been presented at many famous museums including the Cernuschi Museum in Paris and the Museum of Asian Arts in Berlin," Said Nicolas Chow, the vice-chairman of the Sotheby Asia.
We recommend: