A Chinese court on Wednesday ruled that the producer of a popular cartoon was partly to blame for a violent incident that caused injuries to two children, urging cartoon producers and society to think carefully about violence in children's films and television programs.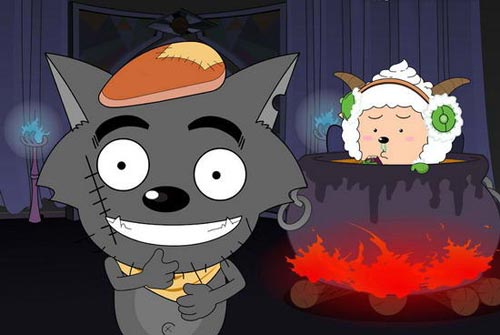 The picture shows a scene from the cartoon Pleasant Goat and Big Big Wolf.
Two brothers, Ran Ran, 7, and Hao Hao, 4, from Donghai county in east China's Jiangsu province, were badly burned on April 6, when they were tied to a tree and set alight by their friend Shun Shun, 10, who said he was imitating a scene from the cartoon Pleasant Goat and Big Big Wolf.
Shun Shun's legal guardians and the cartoon's producer Guangzhou's Creative Power Entertaining Co., Ltd. were responsible for the two brothers' injuries, according to the court's verdict.
According to the court's ruling, Shun Shun's guardians will pay 60 percent of the injured brothers' compensation; the cartoon producer will pay 15 percent. The cartoon has previously shown many scenes of violence, resulting in serious consequences, the court heard.
This case has set a precedent. This is the first time a cartoon producer has been sued in a court of law.
But it is not the only case of children imitating cartoon scenes that has led to injury. Other examples include a boy cutting part of one of his fingers off in Hefei in December 2012 and a girl using an umbrella to jump from a tall building in Shenzhen in April 2013.
China produces more cartoons than any other country in the world. But many cartoons are low-quality and lack creativity and intelligence, and several cartoons include regular violence. A main character in Pleasant Goat and Big Big Wolf has been hit with a pan 9,544 times, captured 1,380 times, cooked 839 times and wired to electricity 1,755 times in its episodes to date. Each episode includes dangerous scenes that children may try to imitate.
Psychological research has shown violent scenes in TV dramas and movies can lead to real-life violence. This case demonstrated that cartoon makers should not produce content without considering its influence on children. They should put warnings and parental guidance tags on violent cartoons.
The court ruling indicates that the cartoon producer is not most liable for the incident; Shun Shun's guardians were found most liable. Moreover, Pleasant Goat and Big Big Wolf has not been banned by censors, so it is not just the cartoon producer that ought to make changes. The country and its society should think of ways to improve legislation, rules and systems to rate and censor cartoons, as well as how to tell parents and guardians to protect and properly guide children. Cartoon producers should reflect on their work and consider the consequences of their content. If all parties work together, China's cartoon industry can develop healthily.
We recommend: