Statistics from the Chinese Culture Relics Society show that more than 10 million Chinese cultural relics have been lost overseas due to wartime robbery or iniquitous trade since 1840. According to the UNESCO (United Nations Educational, Scientific, and Cultural Organization), about 1.67 million Chinese relics are housed in more than 200 museums in 47 countries. Some estimates put the number of Chinese cultural relics of that kind collected by individuals at 10 times that amount. The figures above reveal the huge amount of China's lost treasures.
The lost cultural relics cover almost all categories, including painting, calligraphy, bronze, porcelain, oracle bone inscriptions and ancient books and records. Most of them are currently owned by museums or private collectors in the UK, France, US and Japan. There are more than 23,000 pieces of Chinese relics in the British Museum. And among the lost 300,000 piece of oracle bone inscriptions, nearly 13,000 are stored in Japan. Limited funding is an obstacle for China to buy them back, according to experts. In recent years, however, the Chinese government has improved efforts to retrieve the precious cultural relics that are kept overseas.
On the occasion of Chinese Cultural Heritage Day, let's have look at some of the most famous Chinese relics housed abroad.
Gu Kaizhi, Admonitions of the Court Instructress to Palace Ladies, 334-406, hand scroll, ink and colors on silk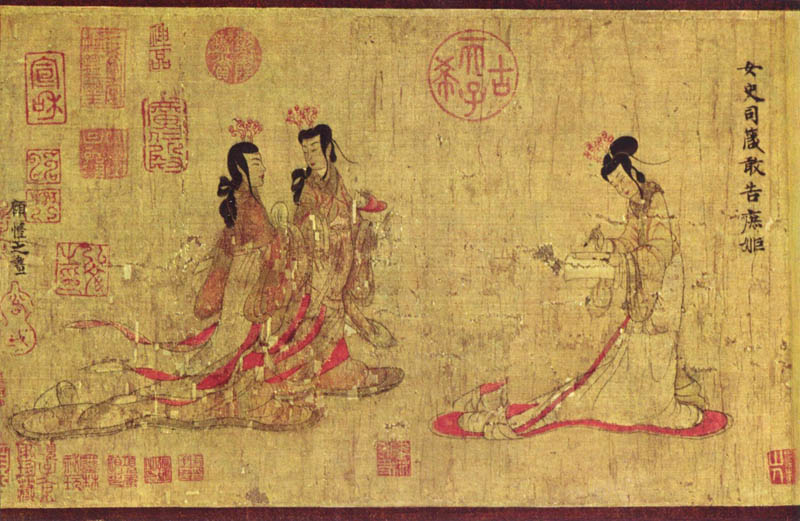 The painting Admonitions of the Court Instructress to Palace Ladies is housed in the British Museum.
This painting, dated between the 6th and 8th century - probably an early Tang Dynasty copy - illustrates 12 stories from a political satire about Empress Jia Nanfeng written by Zhang Hua (ca. 232-302). Beginning in the 8th century, many collectors and emperors left seals, poems, and comments on the scroll. The scroll was stored in the emperor's treasure until it was looted by the British army in the Boxer Uprising in 1900. Now it is in the British Museum collection, and is missing the first three scenes. There is another surviving copy of this painting, made during the Song Dynasty that sits in the Palace Museum in Beijing. The Song version is complete in 12 scenes.
We Recommend: