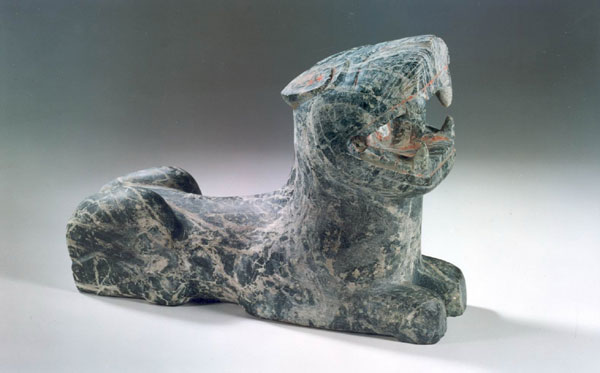 A stone tiger on display at the Jinsha Site Museum in Chengdu.[Photo provided toChina Daily]
Visitors to Chengdu, capital of Southwest China's Sichuan province, are curious about a circular golden emblem that can be seen in many parts of the city.
It can be seen on engine hoods of taxis, the overpass en route to the airport and on local television channels.
The emblem, featuring four flying birds surrounding the sun, is a replica of a gold foil which was unearthed in the Jinsha Ruins in western Chengdu in early 2001 and is on display in the Jinsha Site Museum.
On Feb 8, 2001, workers at a real estate construction site in Jinsha village, found ivory and jade in the piles of debris.
Archaeologists have since excavated some 6,000 precious relics including gold, jade, bronze and stone wares as well as a ton of elephant tusks and tens of thousands of pottery and ceramic pieces.
The excavation of the Jinsha Ruins was hailed as one of the top 10 archaeological finds that year by the Archaeological Society of China and China Cultural Relics News.
The ruins, covering an area of 4 square kilometers, include a sacrificial site, a palace, houses of the nobility and commoners, and a graveyard. "The ruins might have been a capital of the ancient state of Shu," says Wang Yi, curator of the Chengdu Museum who was in charge of the excavation.
Shu was the name for Sichuan in ancient times and Jinsha literally means "gold sand" in Chinese.
| | | |
| --- | --- | --- |
| |   | |
| Scenery of Laifeng County in central China's Hubei  | 1,300-year-old Guangde Temple in Sichuan  |  Hangzhou residents enjoy noodles during Zhongfu |