A treasure trove of rare photographic images from China in the 1800s gives a glimpse of everyday life, captured by a daring Scottish photographer. Cecily Liu reports.

Betty Yao says her life has been changed by the photographs of John Thomson, the celebrated Scotsman who was one of the first professional photographers to document 19th- century China.
Tradesmen selling a selection of vases.
In fact, Yao was so touched by the authenticity of the photographs when she first saw them in 2006 that she decided on a major career change. The photographs inspired her to give up her job as a program director at the charity Asia House in London to become a curator. In 2009, she took an exhibition of Thomson's China work around the world, and this year she is taking the show back to China.
"Thomson was interested in Chinese people," Yao says. "He respected them, and documented their daily lives in an objective way, some beautiful and some not so beautiful."
Thomson's approach to China was unique, Yao says, as many Western photographers in the Victorian era saw Asians as specimens, and chose to document their ugly or extreme sides, including people in prisons or bodies with heads chopped off.
But Thomson's photographs depicted a variety of people, including those on the streets, fruit sellers, antique dealers examining porcelain and women with elaborate clothes and jewelry busy with their daily activities.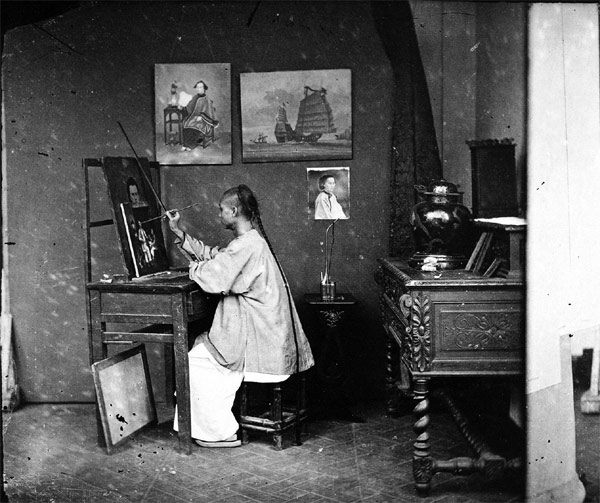 An artist in Hong Kong.
The photographs brought out the diversity of personalities of ordinary Chinese at that time, and highlighted China's street scenes, habits, dress codes and popular activities. They serve as interesting historical material as well as fine photographs.
"As a professional photographer, he had to make money by photographing the rich and famous. But he also photographed ordinary people with equal dignity," Yao says.
Thomson was born in 1837, two years before the invention of the daguerreotype, the first photographic process. After an early career working as an apprentice to an optician and scientific instrument maker, Thomson embarked on a journey in the 1860s to photograph countries in South and Southeast Asia.
In 1868 he arrived in Hong Kong and established a studio in Queen's Road in Central District. During this period, he photographed many of Hong Kong's mountain ranges, plains, rooftops and street scenes. During 1870-72, he made many journeys to Guangdong, Hainan, Fujian, Nanjing, Beijing, Tianjin, Taiwan and Macao.
On these travels, Thomson received much hospitality but also some hostility, as many Chinese people were not familiar with cameras and had never seen a Caucasian man.
But the challenges did not reduce Thomson's passion for photography. He stayed in China until 1872, and returned to Britain with three crates of glass negatives.
We Recommend: