The 2013 Autumn Beijing Hanhai Auction Selections Exhibition is set to open on Financial Street for the first time ever. This exhibition is an effort to develop the art auction market of Beijing's western district and to effectively utilize the resources of Liulichang and Financial Street.
As an important part of the 2013 Dashilai-Liulichang Shopping Festival, the exhibition will be hosted by the Beijing Dashilai-Liulichang Chamber of Commerce and organized by Hanhai Auction.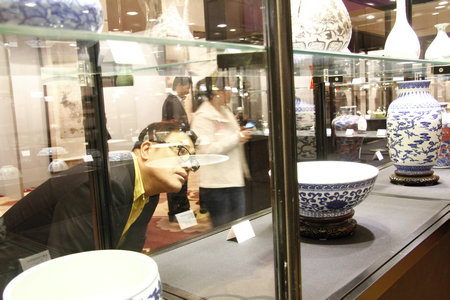 Supported by local administrations of Liulichang and Financial Street, two important Beijing streets, Hanhai Auction held an exhibition at the Ritz-Carlton Hotel on Financial Street on November 16-17 in preparation for the Financial Street auction.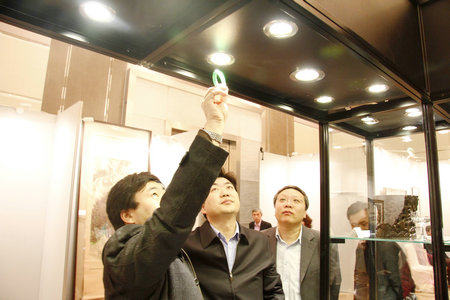 The 2013 Autumn Beijing Hanhai Auction Selections Exhibition will be held at the Crowne Plaza Hotel from December 3 -8. More than a hundred works from the autumn actions will be exhibited including Chinese paintings, oil paintings, jade, Buddha statues and many different antiques. Among the works, the Yongle blue and white porcelain plate of the Ming Dynasty is especially worth noticing for it is a representative work of Yongle blue and white porcelain with its light base, smooth glaze, and thematic decorations of twining vines and flowers which serve as a symbol of life's eternity. This wish for blessings embodied in this delicate artistry is what makes the artistic works valuable.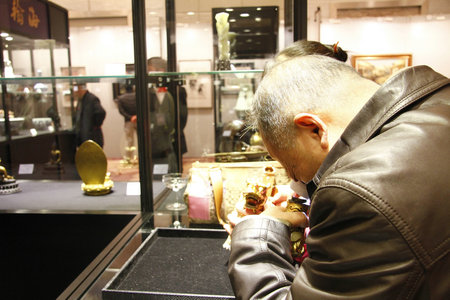 The Hanhai Auction has been featured before at auctions of gold and bronze Buddha statues and this exhibition will be a great opportunity to appreciate a range of statues covering different periods and styles. The Gilt Bronze Lohan of the Song and Yuan Dynasties to be displayed during this exhibition which once belonged to English collector Spearman and feature exquisite workmanship. The Lohan, while frowning with his eyes wide open, appears magnificent while the delicate details of his clothing demonstrate the piece's artistic and cultural value.
We recommend: