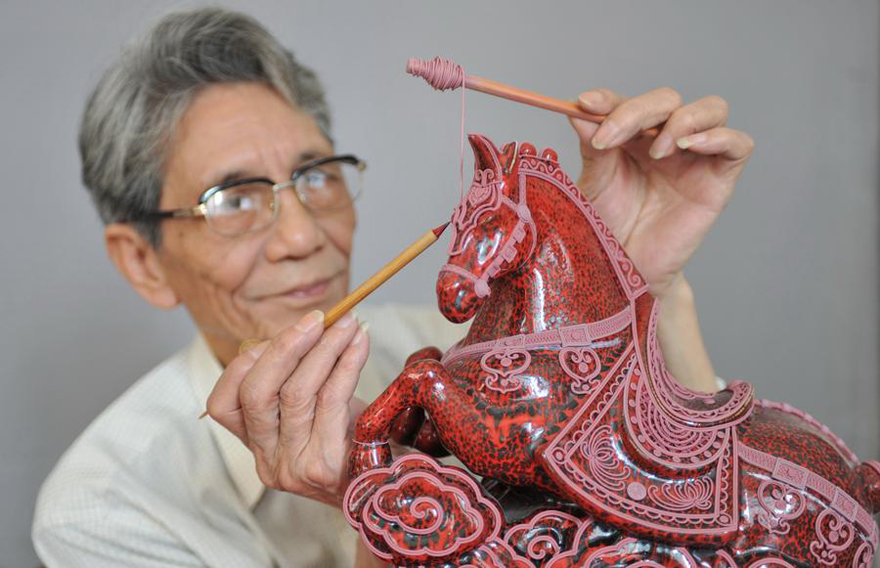 Handicraftsman Cai Shuikuang shows a skill of lacquer thread sculpture in Xiamen, Southeast China's Fujian province. Cai Shuikuang is the 12th generation disciple of Cai Lacquer Thread Sculpture, which has a history of more than 300 years and has been listed as the state-level non-material cultural heritages in China. [Photo/Xinhua]
Lacquer thread sculpture is a traditional folk handicraft of Fujian province. It is especially popular in Xiamen and Quanzhou of this southeast coastal province.
The delicate and demanding craft derived from decorations on Buddhist statues and evolved into an independent art form some 300 years ago. In the Tang Dynasty (618-907), the prevalence of Buddhism stimulated the craftsmanship for religious statues, which were lavishly decorated with colorful painting of varied kinds. During the Song (960-1279) and the Yuan dynasties (1279-1368), sculptors began to use lacquer threads to outline patterns on the clothing and headwear of the figures they created, giving their works a tri-dimensional aspect. The technique was also widely applied to the modeling of native gods – Mazu and Baosheng Dadi, the divine doctor. Both are found in shrines all over Fujian.
We Recommend: