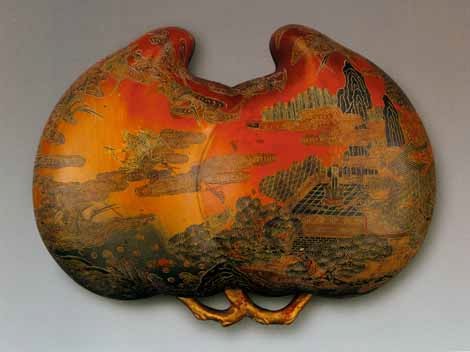 Middle Qing Dynasty
Height: 12.5cm
Diameter of mouth: 29.8cm
The box is shaped like two conjoined peaches and coated with red lacquer all over the body. The lid and the box are adorned with motifs of sea wave, cliffs and flowing clouds using various colors of lacquer, including red, yellow, black and green, etc. On the left of the landscape picture, there are divine mountains, towers and pavilions surrounded by pine trees. In front of the pavilions, there are railings, in which a bottle stands. The bottle holds the lots brought in by the several cranes in the distance. It's a picture depicting the idiom of "the sea house adds in lots", which symbolizes a longevity wish. The inside and bottom of the box is coated with black lacquer.
The picture of "the sea house adds in lots" is generally considered as a symbol of adding more years to one's life. Legend has it that there's a house by the sea and there's a bottle inside the house. The bottle contains the chips indicating the number of years people live in this world. If anyone could make the crane to add a chip into the bottle, he or she may live an extra one hundred years.
we recommend: