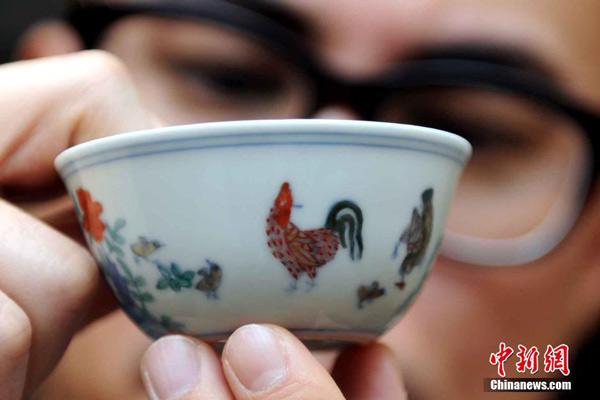 A rare Ming dynasty wine cup expected to fetch $30 mln at HK auction.
The spring auction season in Hong Kong is fast approaching, and among all the precious items up for grabs, a five-century-old wine cup painted with chickens is one of the most prized pieces. It's likely to fetch more than 30-million US Dollars when it goes under the hammer in April.
Only 15 of these cups from China's Ming dynasty remain in the world, and only four of them are in private collections. That's according to Sotheby's, which plans to auction off the cup at their upcoming Spring sale.
Nicolas Chow, deputy chairman of Sotheby's Asia, is expecting the cup to fetch more than the estimated price, and probably set a new record.
"These chicken cups were produced for the Chenghua emperor, and soon after that, later emperors all collected them. They adored them, they praised them, they had them copied. These are, I would say, objects bathed in mythology. And this is why they are so valuable, their legendary aura goes far far beyond their historical importance," he said.
Chow says the cup was created in the famed Chinese porcelain town of Jingdezhen under the reign of Ming emperor Chenghua, a period known for producing fine porcelain.
"The glaze is extraordinarily silky. It's a real joy to caress. I would say apart from the design, which is unmannered, very simple and modest, it's really the tactile dimension which is so remarkable," he said.
The same cup sold at a 1999 auction for 4-million US Dollars, breaking the previous world record for Chinese art. Similar cups that are not in private hands are mostly in a museum in Taiwan.
The cup is set to go under the hammer on April 8th during Sotheby's Fine Chinese Ceramics and Works of Art Spring Sale.
We recommend: