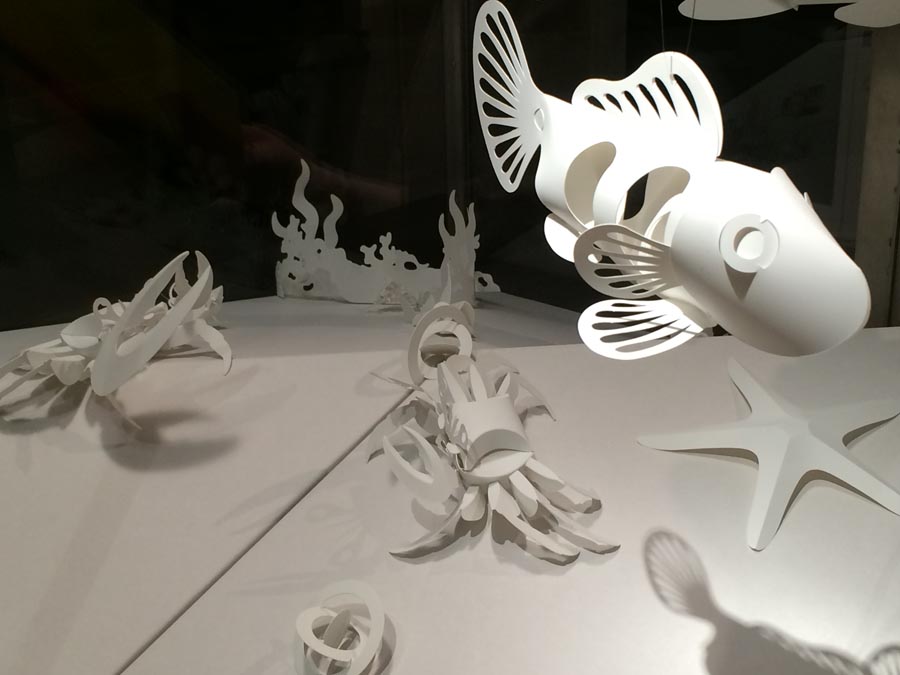 Some paper sculptures being exhibited at the Louvre in France in 2016. [Photo provided to China Daily]
Combining deftness of touch with inspiration, artist brings material to life in unexpected ways, reports Xie Chuanjiao in Qingdao, Shandong province.
It all stems from a humble piece of paper. That, combined with skillful and delicate handiwork, a vivid imagination and perseverance, the often overlooked but necessary ingredient for any successful artist, produces something beautiful. Huang Li-hsiang is an aficionado of this form of artistic endeavor. She makes a piece of paper come to life by turning and transforming it into animals, vibrant flowers or elegant decorations.
It borders on the magical. She creates "lives" with her hands and breathes "souls" into the paper. When entering her "paper paradise", in Qingdao's West Coast New Area, Shandong province, she becomes the benign fairy lady of a paper-art wonderland.
"Paper art is everything about my life, and I have been enjoying it throughout," Huang, who comes from Taiwan, told China Daily in an exclusive interview last week.
"Paper art requires no educational background nor wealth; all you need is passion," adds the 63-year-old.
"A flat piece of paper can become any 3D object, just as an individual has infinite possibilities," Huang says.
Huang, founder of Paper Art Design Studio, has been engaged in the design and research of paper crafting for more than 30 years.
Huang believes everyone comes to this world with a certain mission and hers was destined to be connected with paper.
"I was keen on folding pieces of paper when I was 3 or 4 years old and I kept fiddling with them until I fell asleep with them in my hands," recalls Huang, who has boasted a real talent for crafts and DIY since childhood.
In her 20s, she met a group of friends who were also keen on creating art with paper. They proceeded together as a team. Fast forward a few decades to the present day and Huang's childhood hobby has become a lifelong career.