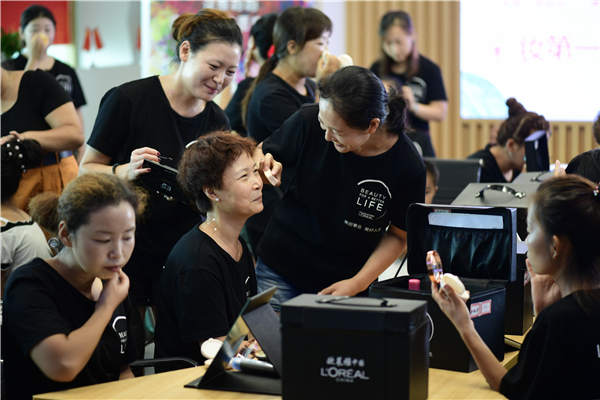 A program that trains rural women in beauty care aims to help them increase social communications and build confidence. [Photo provided to China Daily]
"Many women here drop out of school early and get married when they're about 20," she says."Their whole life is then tied to those of their husband and children. The program helped create a better life for us."
Wang Lijun, deputy director of the Beijing Yichuang Development Center for the Public Welfare of Rural Women, one of the organizers of the program, says many women in rural areas are involved in few social activities because they have a limited education or occupational skills.
"Many can only take part-time jobs or ones that require lower-level skills."
The training program aims to help them increase social communications and build confidence and independence, she says.
"Only if women have a career of their own and income can they gain respect from family and society."
Since 2015 about 5,240 rural women with low or no income across China have taken part in the program.
Liang Ran, 32, of Neiqiu county in the city of Xingtai, Hebei, took part in the program from July to September 2018. At the time she had just given birth to her son and experienced depression, waist ache and had put on weight, she says. At one point she refused to leave the house and stayed with the baby all day.
"I was sensitive and highly irritable, and I was bored with life."
Her appearance greatly changed after she did the makeup course, and applying makeup was something she grew to love doing. After the course a friend invited her to learn yoga in Shanghai, and in May last year she opened her own yoga studio in Neiqiu. It has about 15 customers a day, each of whom pays an annual membership fee of 1,688 yuan. This year the studio had monthly revenue of about 10,000 yuan, Liang says.
She has got into the habit of putting on makeup almost every day, or whenever she is dealing with students or is having photos taken of herself, she says. These are taken outdoors from time to time to be used in advertising for the club. She used to find it hard to speak publicly, she says, because she felt uncomfortable about her looks, but that has changed, she says.
Zhang Jianmin, secretary-general of the China Women's Development Foundation, an organizer of the program, says the courses have been welcomed in many regions.
"Women get a chance to learn work skills, which increases job opportunities and competitiveness, as well as their family's income. In addition, while becoming more confident and independent, their social status can be better recognized."
Zhang says she hopes many more women can benefit from the courses.