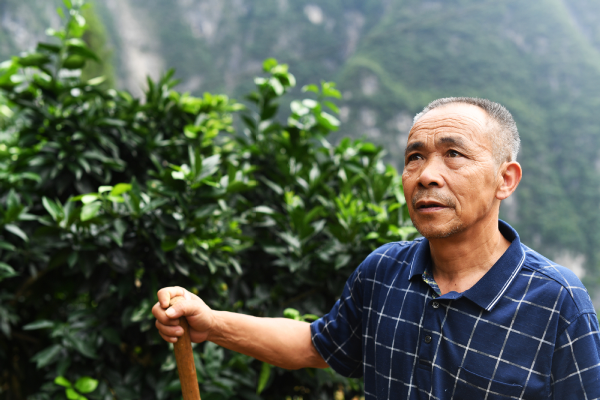 Mao Xianglin, village committee chief of Xiazhuang, has led residents to construct the road and helped them overcome poverty. [Photo by Wang Quanchao/Xinhua]
For Mao Xianglin, village committee chief of Xiazhuang village, Wushan county in Chongqing, the most important project during more than four decades was building a road for the village.
The 8-kilometer-long road links the village, located at the bottom of a valley, to the outside world. Before it was built, it usually took the villagers more than a full day to access the outside world. Now it only needs a one-hour drive.
Sixteen years ago, Mao led more than 100 villagers to build this road with their bare hands. Six lives were lost during the process. He then led them to overcome poverty.
Now he aims at developing tourism in the village to boost income for the villagers and give the younger generation opportunities.
Xiazhuang village is surrounded by cliffs in all directions-it resembles the bottom of a water well. These cliffs rise to more than 1,100 meters.
The previous way out was an old path that had 108 turns, and it took villagers at least 4 days to get to the nearest town and return.
There are around 400 villagers living at the bottom of the "well". More than half have never left the mountains.
In 1997, when 38-year-old Mao started to work as the Party secretary of the village, he made a huge decision-to build a road for the village.
"We can't stay poor forever, even though it's hard, I'll lead us to try,"Mao said to the villagers, according to a report by the Xinhua News Agency.
"We dig 1 meter more, and make the road 1 meter longer. If our generation can't finish the road, the next generation will continue to build it," he says.
In that winter, all young villagers brought tools and food up to the mountains. They lived in caves and they had to tie a rope round their waists and tie it to a tree to avoid falling off the cliffs while sleeping.
To finish the road as soon as possible, Mao lived in the mountains for three months.
The construction work was way more difficult than they imagined. Villagers had to use a large bamboo basket hanging precariously hundreds of meters above the ground to blow a small hole before using hoe or hammer to dislodge the rocks.
Yang Xiangshuang remembers it well. Once when he stood on the edge of the cliff, he was so terrified that his legs were shaking, as gravel and stones fell on top of him.
He remembers that when there was a dangerous situation, Mao was always the first to go.
Within the first three months of the construction, two villagers died when they were hit by falling stones and plunged into the valley.