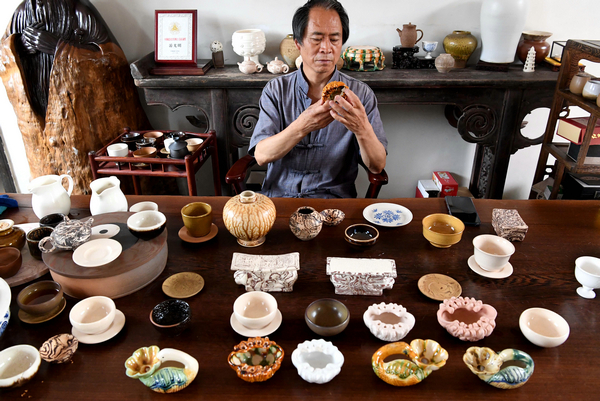 Artisan You Guangming examines a ceramic ware he made in the style of the ancient Gongxian kiln at his studio in Gongyi, Henan province, in September. [Photo/Xinhua]
ZHENGZHOU-Ceramic bottles and jars fill craftsman You Guangming's studio, spilling out the door and onto the roadside. The flowerpots he uses are items he made that are not up to the required standard.
You, 63, is from a small village in the city of Gongyi, Central China's Henan province. Formerly known as Gongxian county, the city is a base for ancient kilns that fired the famous tricolored glazed pottery of the Tang Dynasty (618-907).
With a studio in the village, You reproduces famous local ceramics.
"I hope locals will use the delicate earthenware that was once exclusively for royal and noble families," he says.
Located at the intersection of the Yellow River and the man-made Grand Canal, Gongxian kilns originated in the Sui Dynasty (581-618) and their popularity peaked in the Tang Dynasty. Porcelain fired in the kilns was shipped to Central Asia and Europe via the ancient Silk Road, and to Southeast Asia, Africa and other areas via the Maritime Silk Road, winning global fame, says Ren Wei, head of the cultural heritage administration of the provincial capital Zhengzhou.
You has known of Tang tricolored pottery since childhood, but he did not know his hometown was one of its production bases until the age of 13.
"The glory of my hometown made me proud but also sad. How could the beautiful art fail to be passed down?" says You, who has long dreamed of reviving the porcelain for modern use.