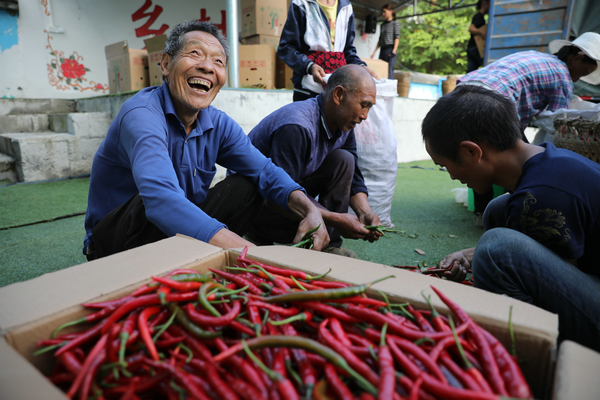 Residents of Hongxing village, Yanhe Tujia autonomous county, Guizhou province, sort and pack red chilies, one of the crops they harvest and sell to boost income. YAO XU/CHINA DAILY
With a genuine affection for the countryside, 38-year-old Hou Yuanjun from Southwest China's Guizhou province has been a resident cadre for four years, and plans to stay on.
Because of his diligence and contribution, he has been rated "excellent" for three consecutive years, winning several county-level or city-level honorary titles. In 2019, he was awarded the title of the province's "poverty alleviation excellent resident cadre".
Hou attributes his resoluteness of working in the villages to his fondness for the countryside: "I was born and raised in the countryside, so I just like the things about it."
His work in the villages started in June 2016, when he was selected to work as the resident Party secretary at Muziling village, Guanzhou township, Yanhe Tujia autonomous county of Tongren.
Together with the poverty alleviation team and the villagers, the village's poverty incidence decreased from 19.37 percent to 2.72 percent, and its infrastructure was substantially upgraded. By the end of 2016, the village was removed from the impoverished list.
After completing two years of residency work in the village, Hou could have applied to return to his original position. But knowing that there were still people living in poverty, he said that his mission was not yet complete.
Therefore, he took the initiative to apply to continue working on the front line of poverty alleviation, and became a resident Party secretary of Hongxing village of Guanzhou township in April 2018.