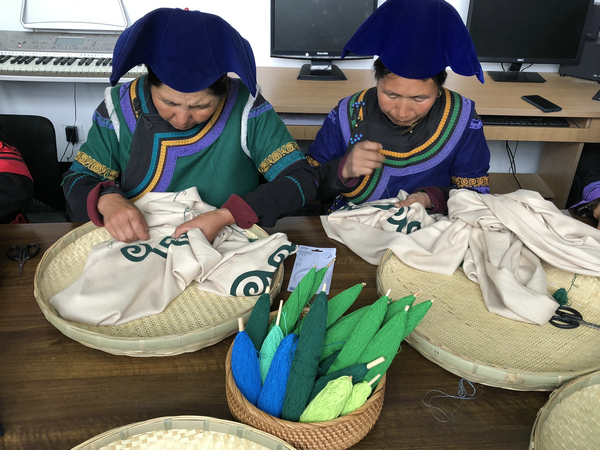 Women learn traditional Yi-style embroidery at a farmer school in Xide county, Sichuan province. YE ZIZHEN/CHINA DAILY
Not far from Xiaoxiangling Mountain, an area of natural beauty in the Liangshan Yi autonomous prefecture of Sichuan province, He Dinghong, 41, opened the first restaurant in Xiaoshan village two years ago.
The restaurant is located inside the ancient courier station of Dengxiangying, a hot spot in the architectural style of Ming (1368-1644) and Qing (1644-1911) dynasties along the Ancient Tea Horse Road, a trade route historically connecting Central and Southwest China with the Tibet autonomous region starting from the Tang Dynasty (618-907).
When azalea, beloved by people of the Yi ethnic group, blossoms in May, tourists flood in and He welcomes the busy season at his restaurant. Tourists coming from cities especially like the free-range chickens and pork in the countryside, He says.