Ingredients
1 pc Lotus Root (Approx. 400g)
100g Glutinous Rice
10 Pitted Red Jujubes
3/4 Slab of Raw Cane Sugar
800ml Water
Osmanthus Syrup
1 Tbsp Dried Osmanthus
2 Tbsps Honey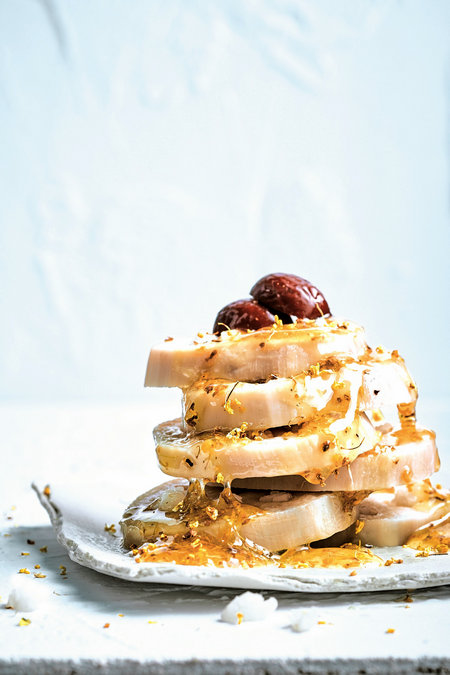 Honey glazed lotus root with jujube and osmanthus, a dish from Grace Choy's book Choy Choy Kitchen.
Instructions
1.Rinse the Lotus Root. Trim off and Reserve the Tips.
2.Soak the Jujube in Water for 15 mins and set aside.
3.Soak the Glutinous Rice in Water for 3 to 4 hours and set aside.
4.Soak the Dried Osmanthus in Water for 5 mins.
5.Stuff the Lotus Root with Glutinous Rice with the help of a Chopstick. When done, Put the Tips Back in Place and Secure with Toothpicks.
6.Bring a Pot of Water to a Boil on High Heat. When the Water Boils, add the Jujubes and Cane Sugar. Stir Briefly then add the Lotus Root and Cook on High Heat for 45 mins.
6.1. Reduce Heat to Medium and Cook for another 30 mins. Turn off Heat and Let Rest Covered for 15 mins.
7. When Done, put the Lotus Root into Cold Water to Cool down for 10 mins.
8. After cool down, Take out the Toothpicks and Peel it. Cut into 2 cm Slices.
9.To prepare the Osmanthus Syrup, Add approx. 1 bowl of the Jujube Soup to a Pan and turn on High Heat. Add the Osmanthus and Honey, Stir Constantly until thoroughly Mixed then Turn Off Heat.
10. Finally Pour the Hot Syrup on the Lotus Root Slices and serve. Enjoy!