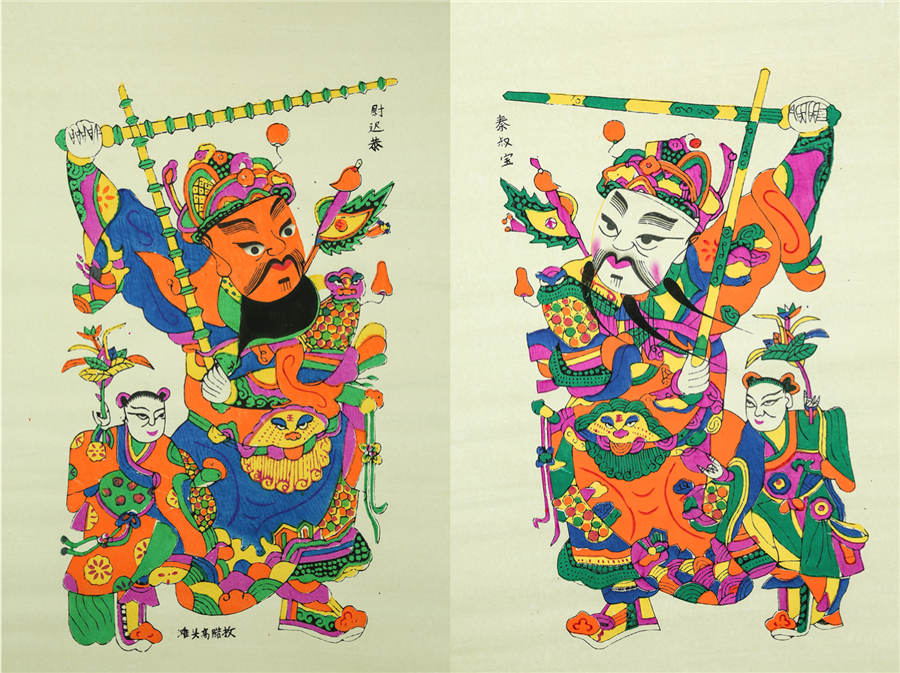 A pair of door gods, typical of the traditional Tantou nianhua style, is a highly-respected cultural heritage in Tantou township, Longhui county, Central China's Hunan province. [Photo by Zhong Xinglin/provided to chinadaily.com.cn]
"I firmly believe that nianhua will enjoy a rebirth, gaining a foothold in contemporary life," said the 68-year-old master, a national-level nianhua inheritor, better known as a guardian of Fengxiang nianhua, a local variety of the Chinese New Year woodblock prints in Shaanxi.
Tai's family has been practicing the folk art since the early Ming Dynasty (1368-1644). As the only surviving 20th-generation inheritor of the art and craft, Tai has spent decades re-creating hundreds of traditional nianhua woodblocks, strictly in accordance with vintage New Year prints he found.

"Inheritance comes before innovation. It is my mission in life to rescue and recover traditional motifs, patterns and techniques. I am not interested in innovation. I'd rather leave it to young people," Tai said.
But Tai is happy to see that his son Tai Gaoyang, daughter-in-law Wang Yixuan, and daughter Tai Gaodi, have all joined in to promote nianhua.
Gaoyang and Yixuan concentrate on creating new products based on traditional nianhua motifs, and then market and sell them through e-commerce and social media platforms.