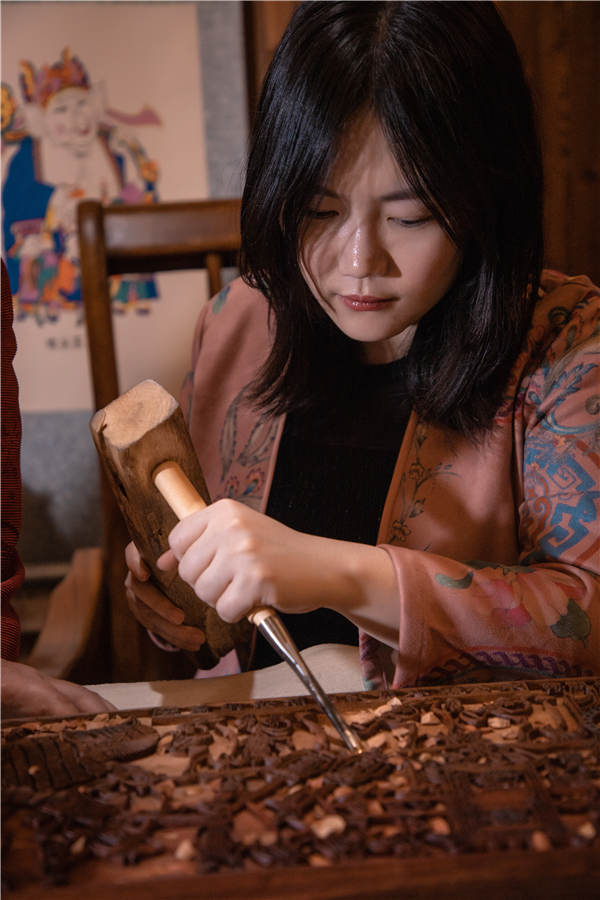 Journalist-turned nianhua artisan Zhong Xinglin has managed to catapult the lesser-known Tantou nianhua to stardom among young consumers across China. She was invited to share her success story at the opening ceremony of the conference on nianhua's inheritance and development held from Nov 23-24 in Weifang, East China's Shandong province. She is widely deemed both an outstanding younger-generation inheritor of the intangible cultural heritage and a shrewd entrepreneur in China's fledgling cultural and creative industry. [Photo by Zhong Xinglin/provided to chinadaily.com.cn]
Apart from honing her nianhua-making skills, the media-savvy artisan has since catapulted Tantou nianhua, a variety of the famed Chinese intangible cultural heritage in her home province of Hunan, to stardom among young consumers across the country.
Both traditional products and modern spinoffs from the Zhong family's nianhua studio have been selling like hot cakes on social media, such as WeChat and TikTok.
"A steadily-growing number of followers are not only willing to buy Tantou nianhua products but also to learn nianhua-making skills. For me, that is very encouraging," said Zhong. "I am very optimistic about the future of nianhua."
Tai Liping, a veteran nianhua artisan from Baoji, Northwest China's Shaanxi province, echoed Zhong's optimism at the seminar on nianhua creation and innovation.