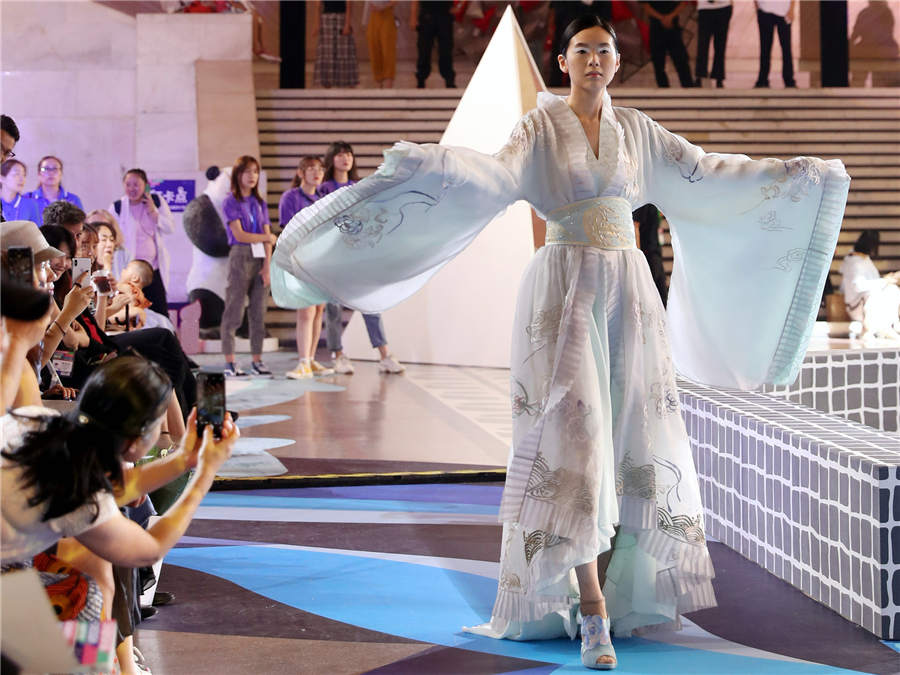 A model shows a Han-style clothing using kesi weaving technique during a fashion show in Shanghai, Aug 30, 2019. [Photo/Xinhua]
Kesi weaving technique
Kesi is a silk weaving technique prized for creating elaborate silk tapestries with intricate cut designs resembling carved artwork, and it has its origins in the Yangtze River Delta city of Suzhou. The technique mainly entails using old wood machines and bamboo-made shuttles and plectrums to weave multicolored silk threads into a colorful fabric. The technique, listed as national intangible cultural heritage in 2006, is always seen on fans.
Sericulture and silk craftsmanship
Sericulture and silk craftsmanship of China, centered in Zhejiang and Jiangsu provinces near Shanghai municipality and Chengdu in Sichuan province, reflect a traditional handicraft with a long history.
Silk-making, traditionally an important role for women in the economy of rural regions, involves planting mulberry trees, raising silkworms, unreeling silk, making thread, and designing and weaving fabric.
Sericulture and silk craftsmanship of China were inscribed on UNESCO's list of Intangible Cultural Heritage of Humanity in 2009. The craft can be seen in the material used for hanfu.