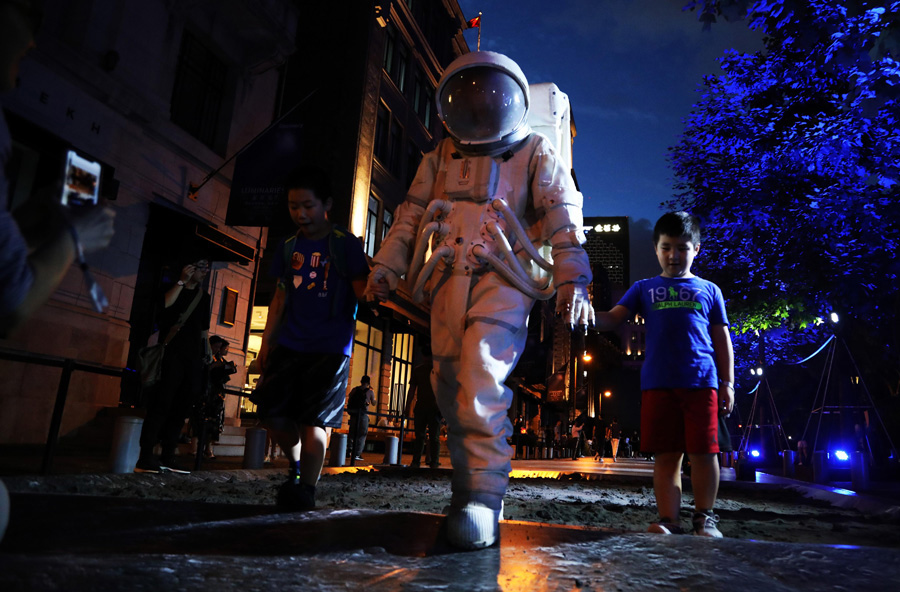 The launch of the Discovery Space Week event on July 18, and a three-day public art exhibition, Luminaries, draw a big crowd in Shanghai to showcase mankind's constant desire for exploration. [Photo/CHINA DAILY/TANG YANJUN/CHINA NEWS SERVICE]
In China, the traditional view of documentary is generally a fairly narrow one, where viewers are generally perceived as high-income, more highly educated and of a higher social standing.
To counter this, Discovery, as a major player in real-life entertainment business, prefers to create products covering different genres in real life and bring in-depth and nonfiction programs to the audiences, rather than documentaries in the more traditional sense.
"For example, traditional documentaries are more like the famous Masters in the Forbidden City, but Discovery's nonfiction films often combine factual content with more entertaining elements. The market for traditional documentaries in China is relatively small but we hope to expand our documentaries to the nonfiction film market and reach a wider audience," Qiu says.
"In the past, typical Discovery viewerships tended to be older males. But we believe this group should include younger people. Unscripted cooking and travel shows will attract a more balanced gender ratio."
To create more local content, Discovery recently teamed up with Mango TV to launch Kung Fu Apprentice-a martial arts reality show-which is due to air on the channel on Sept 4.