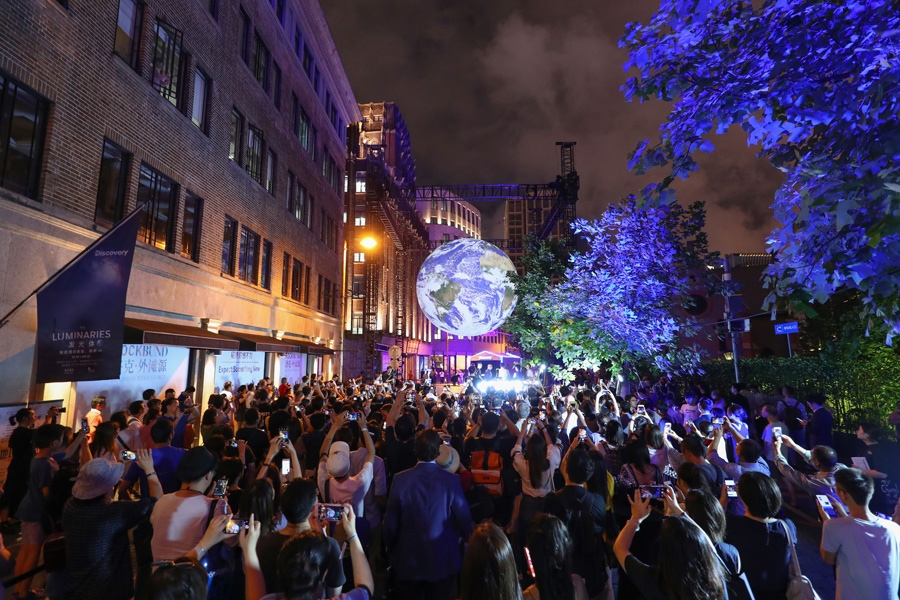 The launch of the Discovery Space Week event on July 18, and a three-day public art exhibition, Luminaries, draw a big crowd in Shanghai to showcase mankind's constant desire for exploration. [Photo/CHINA DAILY/TANG YANJUN/CHINA NEWS SERVICE]
In order to maximize the display of Gaia and the "moon perspective", a 200-meter stretch of Yuanmingyuan Road was decorated like the surface of the moon. Covering an area of around 1,000 square meters, it also features a number of exhibition spaces.
"We have long been conveying the spirit of mankind's constant desire for exploration. We now hope to let people experience it offline, so that they can appreciate the advances in human technology," says Tony Qiu, general manager of Discovery Group for China and South Korea. "We are offering audiences the chance to re-imagine the future."
When visitors enter the "Discovery station", they first have to go through an artistic recreation of the universe before they arrive at the "moon walk" area-a simulated lunar environment featuring a rover and astronauts.
The "first step" area simulates the landing environment for the lunar spacecraft, where visitors have the chance to leave their own footprint on the surface of the moon.
An "information station" presents documentaries about space to help evoke the spirit of exploration. Finally, at the "best observation point", the audience can look up and see Gaia.
Several space-themed Discovery films pay tribute to NASA's 60th anniversary and the moon landings. Above And Beyond: Nasa's Journey To Tomorrow, and Apollo: The Forgotten Films and the popular series How The Universe Works were produced to mark this year's anniversary.