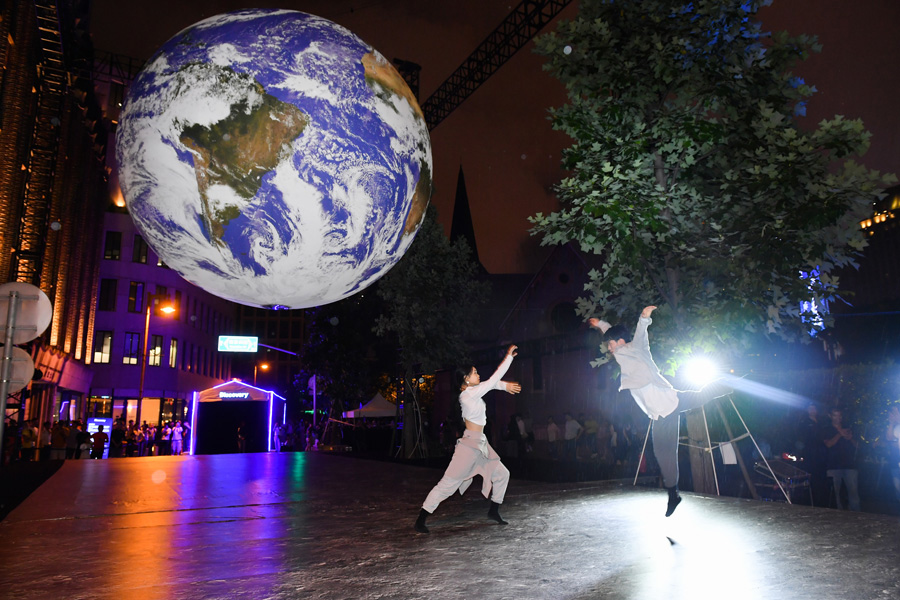 The launch of the Discovery Space Week event on July 18, and a three-day public art exhibition, Luminaries, draw a big crowd in Shanghai to showcase mankind's constant desire for exploration. [Photo/CHINA DAILY/TANG YANJUN/CHINA NEWS SERVICE]
Simon Robinson, global chief financial officer and president of Asia Pacific, Discovery Group, says Chinese people have been fascinated with the moon since ancient times.
"We are presenting people with the opportunity to experience things, rather than just watch them on television," he says. Discovery hopes to develop more location-based entertainment projects in China, Robinson adds, following the success of the Discovery Adventures Moganshan Park, a theme park for outdoor exploration, which opened in Zhejiang province in 2016.
While people are curious and passionate about similar things the world over, specific tastes vary from country to country, Qiu says, underlining his goal to export Chinese content overseas and tailor foreign productions to domestic audiences.
One example of this is the upcoming Chinese version of the popular reality show Say Yes to The Dress. Another is Ed Stafford: First Man Out, a survival program that Discovery coproduced with Bilibili, a video sharing platform that features bullet words-floating on-screen viewer comments.
The wilderness survival show has been a hit with Chinese viewers. Filming of the second series continued straight after shooting of the first season, where the production team visited some of China's most challenging, wild and remote locations suitable for tests of survival. Qiu says that preparations for the second season are complete, and the first episode was filmed at the end of July. Shooting will continue through November and the program is due for release in China in January, and in the rest of the world the following month.