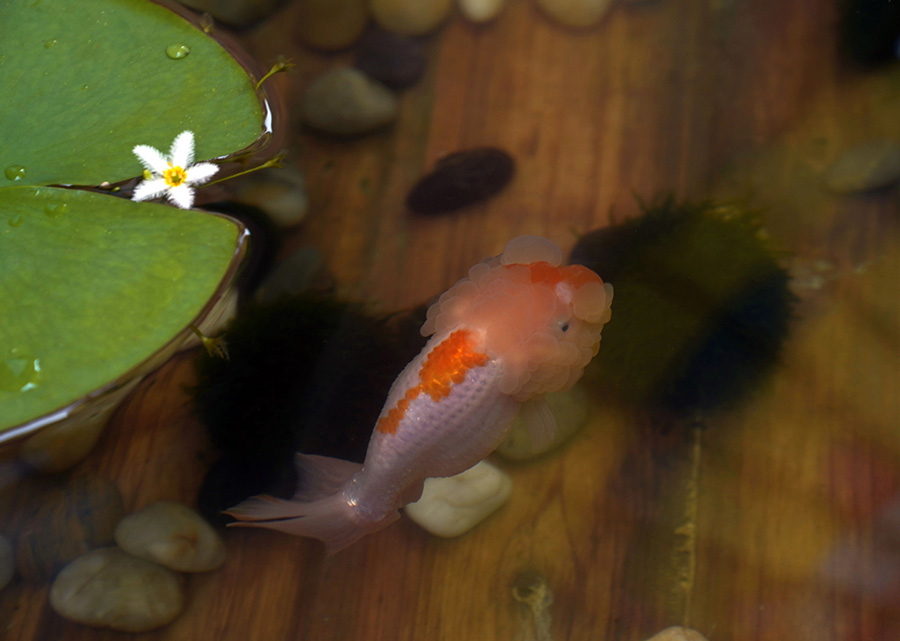 A goldfish is seen swimming in a tank at Leisurely Bliss, a goldfish-themed exhibition at the Palace Museum, on July 30 in Beijing. [Photo/Xinhua]
Are you stressed at work and needing a break? Seeing colorful goldfish among lotus leaves at the Palace Museum's goldfish-themed exhibition might be just what you need to get refreshed and revitalized.
Opened on Tuesday, Leisurely Bliss creatively teams up 34 goldfish-related pieces from the collection of the Palace Museum and about 200 live goldfish swimming in 16 fish tanks, enabling visitors to learn about traditional Chinese goldfish culture as well as admire the beauty of rare goldfish species.
The goldfish, whose Chinese name is a homonym for jinyu (gold and jade), symbolizes affluence and prosperity, making it a favorite theme in Chinese art, particularly in ceramics, embroideries and paintings.
Displayed at the East Side Gallery of the Palace of Prolonging Happiness (Yanxigong), the live goldfish will delight visitors up to August 11, while the goldfish-themed artifacts will remain on view through August 30.