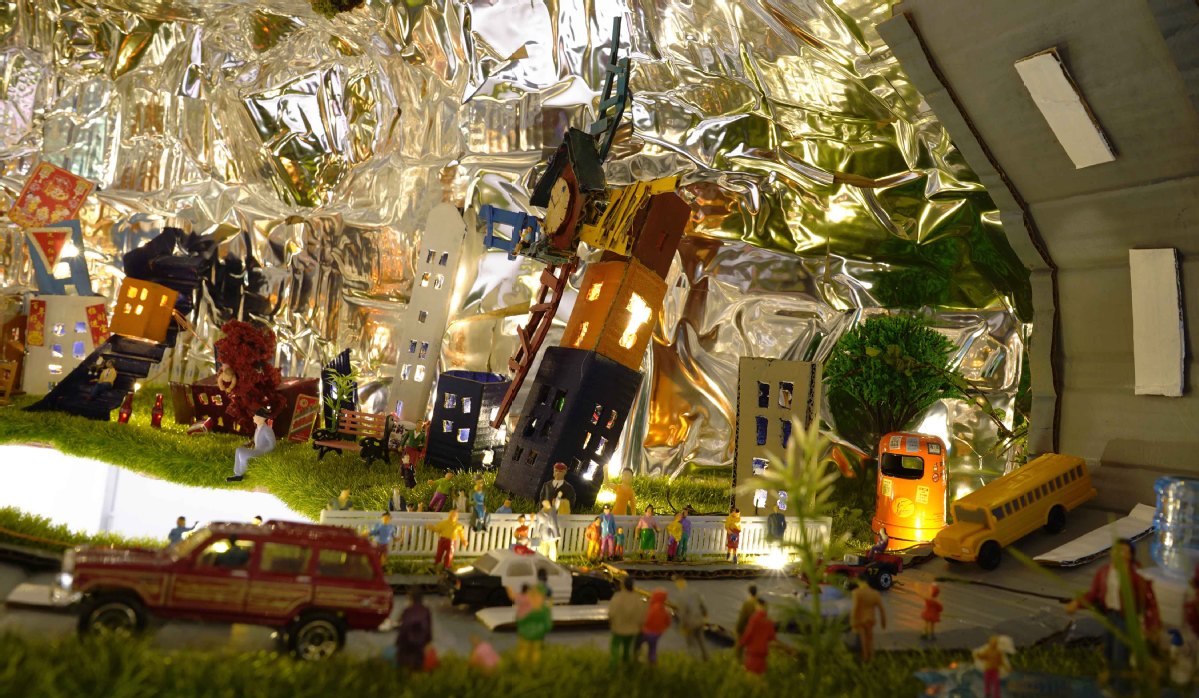 A miniature city is built inside another Sam's work Booger City (2018). [Photo provided to China Daily]
Nandan Sam He's art shortens the distance between the viewer and the homeland of their memories. By building miniature urban landscapes, these works transform viewers into giants. This shortening can also be a painful reminder that the viewers have become giants forever, remote towering observers, and no longer the childlike, imaginary inhabitants of the miniature cities.
Nandan Sam He was born in Guang Dong, China, in 1991. She is a multimedia artist whose work mainly shifts between interactive sculpture, and mixed media video/animation installation. By creating tension in a small space, her work gravitates toward an immersive voyage that explores the contemporary self and reveals an irrational order of a hyper-normalized social structure.
She earned an MFA from Mount Royal School of Interdisciplinary Art. Her work has been exhibited in Yui Gallery, New York; Novado Gallery, New Jersey; Elsewhere studio, Colorado; Institute of Contemporary Art, Baltimore; Maryland federation of art, Washington; Walter Otero Contemporary Art Gallery, San Juan, Puerto Rico, and elsewhere. She is the co-founder of Chameleon Gallery and now lives and works in New York.
Curator Zi Lin and Dandi Gu are a curatorial team based in New York under the name of Metropolitan Art Gallery Association, which is a non-profit focusing on curatorial events, art and cultural exchanges.
This article is sponsored by Metropolitan Art Gallery Association www.magany.org