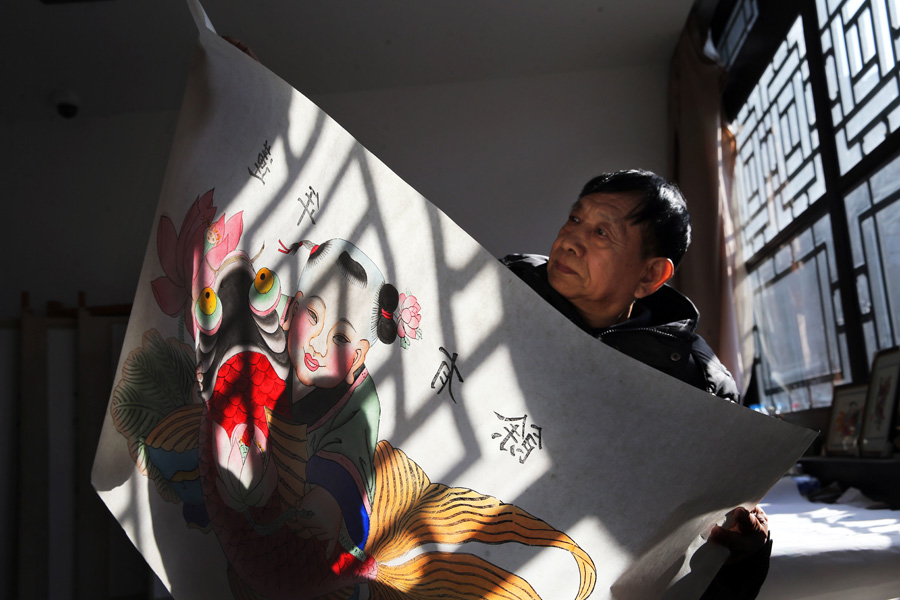 Huo Qingshun, an inheritor of Yangliuqing woodblock printing and the country's top expert of the art form, examines one of his works. [Photo provided to China Daily]
The owner An Wenzhong (1852-1942) was one of the finest commercial minds in Chinese history, because his business was to provide supplies and food to the army forces led by Zuo Zongtang (1812-85) on his march and campaign to protect then area of Xinjiang.
He led a group of local Yangliuqing residents to transport a vast number of supplies to support the government's army march from Tianjin to Xinjiang and back, a strenuous journey of more than 6,000 kilometers that took place during the late Qing Dynasty.
Since there were no vehicles at that time, his team relied on the support of packhorses and camels, and many members of the group had to complete the journey on foot.
The An family's story has been adapted into several TV dramas and films and is well documented in the history books.
Having survived the vicissitudes of history, the ancient town now enjoys a number of newly opened tourism spots.
A museum of folk customs opened last year and many historic buildings-including pavilions, pagodas, temples and theaters-have been renovated and preserved for the future.
Yangliuqing is a popular location for film and TV shoots. As well as the preserved buildings, many locations in the town feature period replica architecture, which attracts filmmakers.