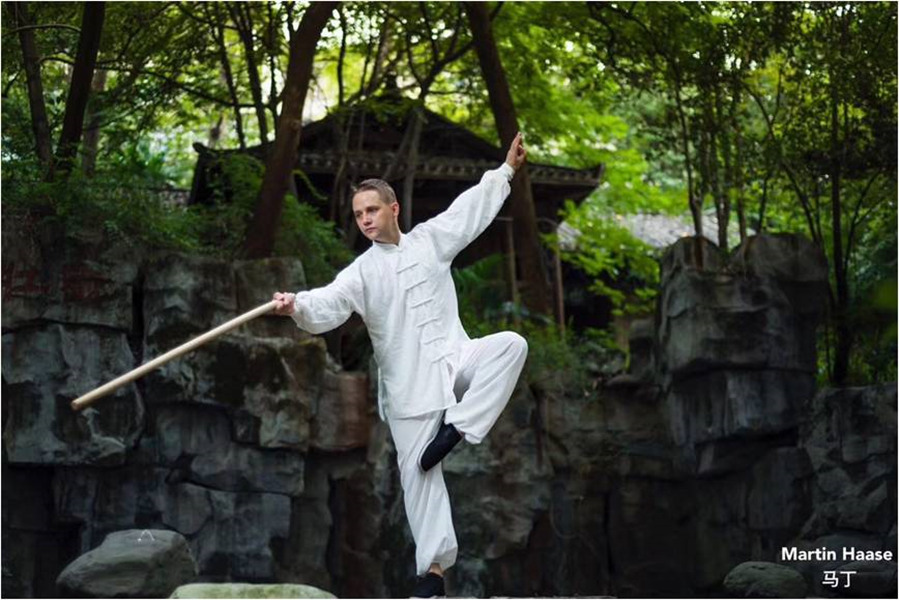 Haase demonstrates Chinese kung fu. [Photo provided to chinadaily.com.cn]
In addition to the basic knowledge of Chinese medicine, he also learned to do acupuncture and cupping therapy. He said that he likes to study the philosophy contained in Chinese medicine, the balance of yin and yang and the five elements, which is also helpful for practicing tai chi.
Haase has been to many cities in China, including Beijing, Xi'an, Shanghai and Harbin. He found that every city in China has its own characteristics. Haase's hometown Victoria and Changsha have a longstanding friendship. He has made many local friends in Changsha, where also met his tai chi teachers, Chinese medicine teachers and his wife.
Haase thinks the most attractive aspect of Chinese culture is Chinese philosophy and Taoism. He has adapted the slow-paced lifestyle described in the Tao Te Ching, a book written by Lao Zi, the founder of Taoism. "The pace of life for modern people is too fast. I think everyone should learn from the Tao Te Ching," he said.