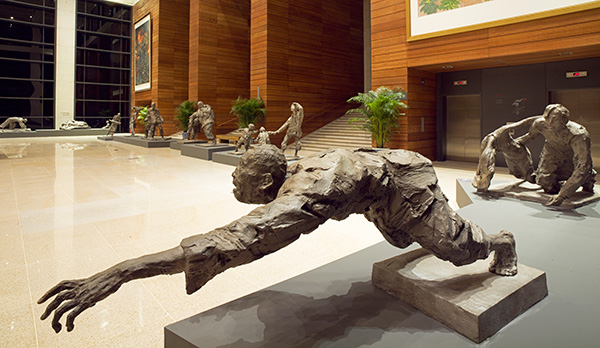 Sculptures by Wu Weishan depicting the horror of the Nanjing massacre occupy the ground floor of Beijing's National Museum of China through June.[Photo provided to China Daily]
An ongoing exhibition pays tribute to the work of eminent sculptor Wu Weishan, Lin Qi reports.
Over the past three decades, Wu Weishan, 57, director of the National Art Museum of China and an eminent sculptor in his own right, has been profiling the soul of society by producing sculptures of people considered to be the greatest minds in Chinese history.
He has achieved prominence for adopting an approach of "sculpting the spirit" which is grounded in Chinese aesthetics. His works, either transmitting solemn beauty or the joy of daily life, demonstrate a balance of intricacy between the subject's figurative and spiritual resemblance, awing audiences both at home and abroad.
Wu has produced around 500 statues, some of which are installed in prominent places around the world, including museums, schools, city parks and squares. Now, visitors to the ground floor of Beijing's National Museum of China will find themselves able to embark upon an extensive journey through Wu's career and peek into the mind of the sculptor, by placing themselves among a selection of 179 sculptures from Wu's oeuvre.
The exhibition, titled Sculpting the Souls, which runs through June, navigates a personal take on the world, from the past to the present, from East to West, and from nature to the various aspects of society.
It features figures ranging from a wide social spectrum, from both past and present. Among them are the revolutionaries Karl Marx, Frederick Engels and Mao Zedong, while ancient philosophers, such as Confucius and Laozi, stand alongside scientist and Nobel laureate, C.N. Yang. Foreigners who have furthered China's exchanges with the world, like the Italian priest, Matteo Ricci and his famous countryman, the explorer Marco Polo, are also immortalized by Wu.