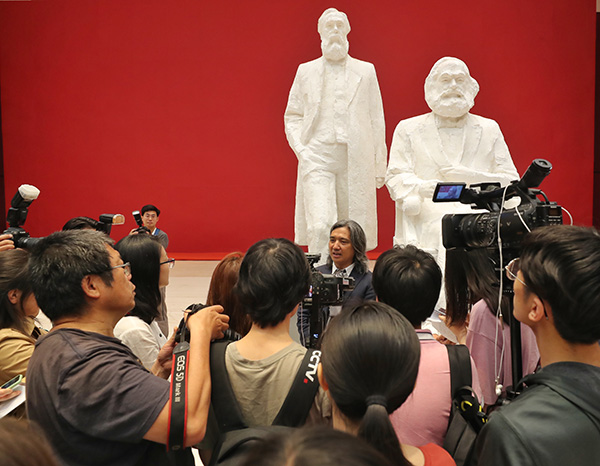 Statues of Karl Max and Frederick Engels on show at Wu's exhibition.[Photo by Jiang Dong/China Daily]
Two days later, his bronze relief titled Centennial Monument was unveiled at a square in the French commune of Montargis where, a century ago, dozens of Chinese youths arrived as part of a work-study program to live and learn techniques and advanced thoughts to empower their home country.
Wu's work portrays several representatives of the group: some later became revolutionaries and politicians, such as Zhou Enlai and Deng Xiaoping; some became achievers in science, the arts or literature, such as modern artist, Xu Beihong.
"This shows a group of young people who are ambitious and vigorous and aspire to reform China and the world," Wu said at the relief's unveiling ceremony.
Stephen A. Orlins, president of the National Committee on United States-China Relations, recently visited Wu's exhibition at the National Museum.
"Professor Wu's sculptures convey the breadth and depth of China's history, philosophy and the Chinese spirit to the visitor," Orlins says. "The larger-than-life depictions of Confucius, Mencius, Laozi, and many other legendary Chinese philosophers remind the observer of China's lengthy and diverse philosophical traditions."
Orlins says he has a Wu sculpture of a child in his living room. He adds that the climax of Wu's exhibition is "the moving and deeply disturbing sculptures depicting the human horror" of the Nanjing massacre.
"You see it on the sculpted faces of the victims. They, along with the rest of the exhibits, remind us that we must remember history to avoid repeating it."