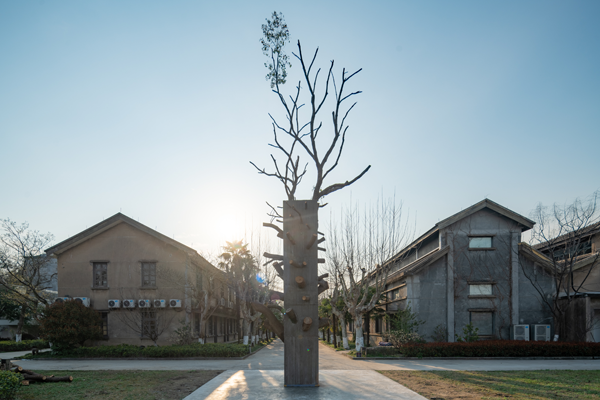 [Photo provided to China Daily]
Yet, what Kapoor's work does not capture within the space is Chinese artist Wang Luyan's Open Confinement, a piece consisting of more than 600 glass spaces that resemble the floor tiles of the square, and are embedded in the floor just like the tiles.
Inside each of the glass spaces is a row of small figures of varying numbers-a motif Wang has frequently used in his previous works. Devoid of facial expressions, visitors can't tell which way the little figures are facing, or differentiate between their fronts and backs.
The cramped, submerged spaces of Wang's installation with its neighboring work encourages the viewer to confront the relationship between openness, confinement and personal boundaries.
"My work is more about concepts that stress insight rather than visual stimulation and therefore differ from Kapoor's work in essence," Wang says, adding that the main value of communication in art lies in distinction.
Lucy Adams, Kapoor's assistant, enjoys the dialogue between the two works, although, as she admits, she mistook Wang's work as being made up of light bulbs at first.
Wang is just one of the participating artists who chose to emphasize the relationship between their work and the site.
Swiss artist Katja Schenker, who has been focusing on performance art and installations, created a sculpture outside the silk factory using a local camphor tree over the course of her monthlong stay in Wuzhen.