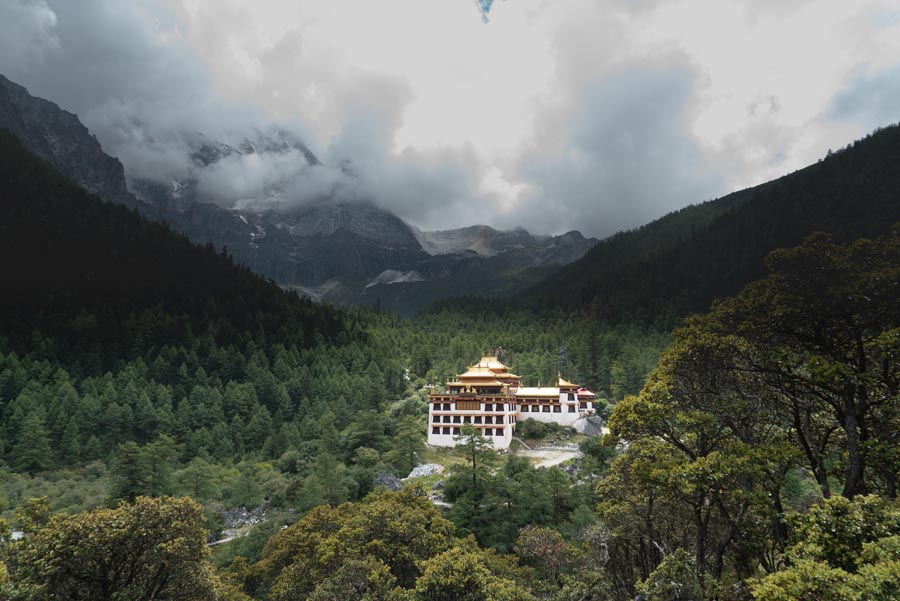 The Chonggu Monastery in Yading National Park in Daocheng county, Sichuan province. [PHOTO BY D J CLARK/CHINA DAILY]
The similarities between the geography of Rock's adventures and Hilton's story were first pointed out by Xuan Ke, a son of Rock's secretary, who organized the translation of Lost Horizon into Mandarin in the late 1970s.
"The place described in the book Lost Horizon has never been disclosed, but we knew it was Muli and the surrounding area," 91-year-old Xuan Ke said in between interruptions from his grandchildren. "Zhongdian, Adunzi and Muli are all within that area."
All three places are neighbors. Zhongdian used to be the name of a county in Yunnan province, Adunzi is now within today's Deqin county, also in Yunnan. But Muli county, though adjacent, belongs to Sichuan province.
Prior to writing his book, Hilton researched the Tibetan-inhabited region in the British Museum's library in London and a number of recent articles from Rock were there at the time. However when questioned in numerous radio and newspaper interviews he did after the book became a sensation, Hilton never mentions Rock, but rather claims his influence came from the writings of Abbe Huc, a French priest who traveled through the Tibetan region in 1844.