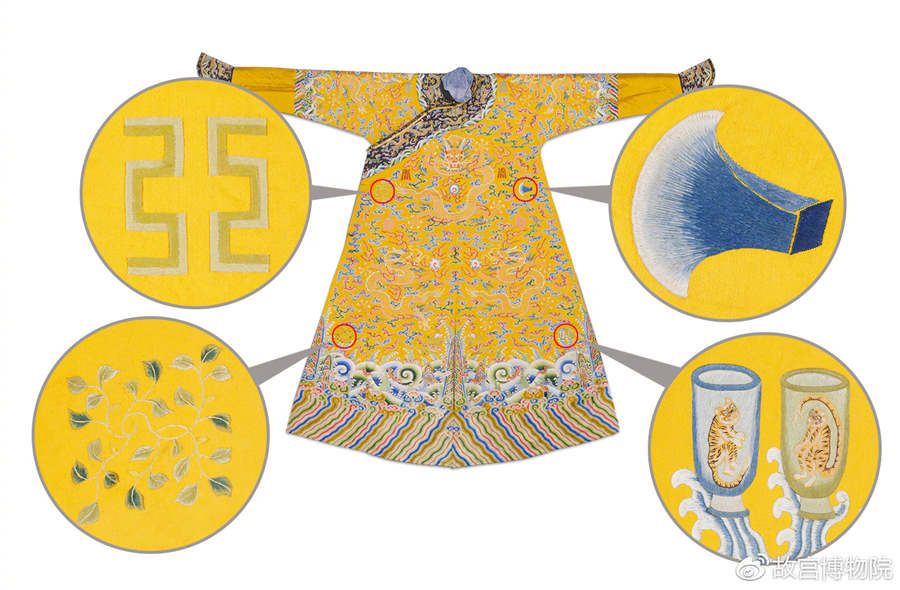 A dragon robe from the Qing Dynasty. [Photo/Official Weibo account of the Palace Museum]
Special clothes and dinners
Like common people, the ancient emperors would wear special clothes and arrange a special dinner for the big occasion.
On the Chinese New Year's Eve, the 30th day of the 12th month in the Lunar Calendar, the emperor would solemnly wear a bright yellow dragon robe stitched with gold and colored thread, and embroidered with dragon patterns and 12 ornaments. The emperor would also wear a fur coat, a crown on the head and court beads on chest. The whole garment in bright colors symbolizes auspiciousness and a prosperous nation.
The first dinner in the Qing Dynasty (1644-1911) royal court was dumplings, just like common families, while there were still ceremonies to obey. During the early Qing Dynasty, the emperor would eat dumplings with vegetable filling in Zhaoren Hall after the worship ceremony on New Year's Eve.