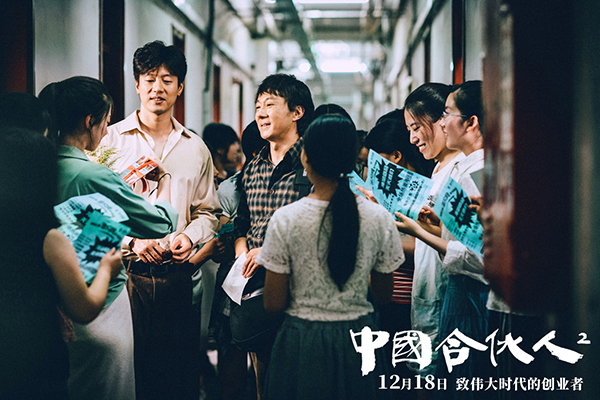 [Photo/Mtime]
The sequel to American Dreams in China, the movie Fighting Men of China hit the big screen Dec 18.
The film is of great historical significance because the story outlines how China's Internet industry developed after the country's implementation of the reform and opening-up policy.
A microcosm of Chinese entrepreneurs
"We selected three representative Internet industry figures including coders and an investor," said Liu Yadang at the premier. "Audiences will see how they start their business in the huge tide of the Internet industry and how they grow into giants. Their stories reflect the indomitable spirit of Chinese entrepreneurs."
As seen in the poster, three young men from small towns arrive in Beijing, completely new to the big city and ready to create something big. Their story happens against the backdrop of the development of China's Internet industry in the last 20 years, from the 1990s to present-day.
As each character's fate develops, audiences witness how China's Internet industry changes from inception, to the industry bubble, and then to its rapid explosion.
Like many business partners, in the beginning, they formed a bond because of their common interests and successfully started the company with their respective strengths. But as the company grows, the partners gradually diverged over the future of the company
One of the leading actors Zhao Lixin explained it this way, "When a company reaches a certain scale, the way partners work is normally against the brotherhood."