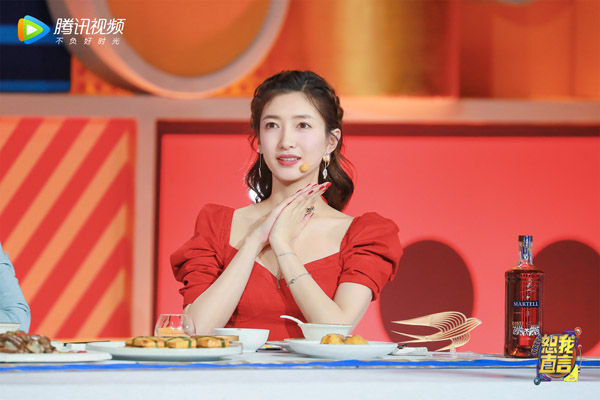 Actress Jiang Shuying appears as the hostess in the talk show, This Is Us, which delves into the behavioral and cognitive differences between men and women. [Photo provided to China Daily]
The talk show, This Is Us, which tries to delve deeper into the behavioral and cognitive differences between men and women by providing opportunities for the genders to have frank discussions on various issues, has aired on Tencent Holdings Ltd's streaming platform every Thursday night since Sept 20. The show concluded last week.
The online program, hosted by renowned Taiwan TV anchor Kevin Tsai and actress Jiang Shuying, invited two celebrities for each episode to exchange their views on relationships, careers, aesthetic tastes and other topics with others whose occupations range from lawyer to scientist, and vlogger to wardrobe manager, exposing the differences in thinking and communication of the two genders at home and in the workplace.
The celebrities included Taiwan-born actress Barbie Hsu, TV hostess Zhu Dan, Hong Kong-born actress Charmaine Sheh, writer Guo Jingming and pop singer Hu Yanbin.
AdMaster, a Beijing-based digital-data company, surveyed 1,000 men and women ages 18 to 45 across the country through questionnaires, to show on the program how the two genders are divided on some controversial topics. And at the end of each episode, psychologist Lei Ming was invited to explain the psychological causes of the divergence of views.
On the micro blog Sina Weibo and website Zhihu, young netizens often jumped into discussions about gender differences in connotative meanings of words, sharing their own amusing or annoying experiences when confronted with misunderstandings stemming from the biologically based differences.
At this point, Zi Xiang, program planner of the talk show, says he hopes that, through gathering men and women from various professional backgrounds to discuss practical issues in daily life, the show will help young people learn how to better relate to the opposite sex and integrate into society.
The show encourages guests to have straightforward and honest conversations just as its slogan, "a candid talk will bring us closer to each other", suggests.
Jiang agrees, and, in her hostess role, she wants to be as sincere as possible.
"I think it is important to be direct and brave enough to show yourself and accept your own inadequacies," says Jiang, who seemed emotional and outspoken on the show.
"There are innate differences and inevitable disagreements between the sexes. What we should do is to find an efficient way to communicate with each other," she adds.
Her partner, veteran anchorman Tsai, who is best-known for his role hosting the long-running Taiwan variety show, Kangxi Coming, says he found Jiang showed her inner world in front of the cameras easily. That allowed the studio audience to know her real self and not just her roles in dramas and films.
Jiang regards the hosting experience as precious material for her acting career.
"At the studio, I could observe the way the show's guests talked and be inspired by their diverse life experiences, which are so different from mine," she says.
The actress, who became known because of her award-winning role in the film So Young in 2013, is a postgraduate student of media economics at the University of East Anglia, Britain.
She says the major taught her how vital gender differentiation was, and that was useful in building her identify in the entertainment circle.
"Being an actress, I should stay unique, and I will finally find my place," she adds.