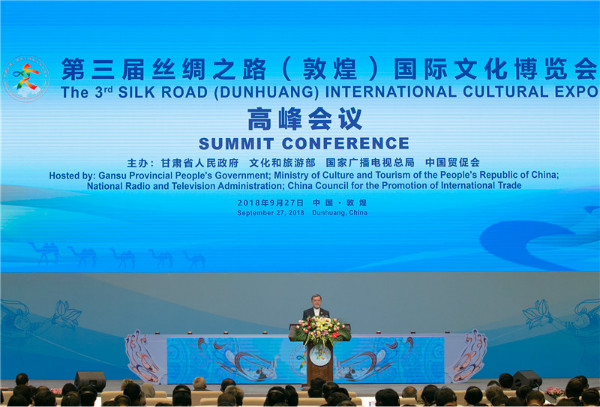 The 3rd Silk Road (Dunhuang) International Cultural Expo opens in Dunhuang, Northwest China's Gansu province, on Sept 28, 2018. [Photo provided to Chinaculture.org]
Lelenskyi Viktor, deputy chairman of the Committee on Culture and Spirituality of Verkhovna Rada in Ukraine, spoke about the similarity between the Chinese and Ukrainian people. As this year's guest of honor, Ukraine brings to China unique art and performance, allowing more Chinese to learn about Ukrainian culture.
"Openness to intercultural dialogues, new ideas and cooperation is the core of the Silk Road concept," he said. "I'm convinced the Silk Road was and remains not only a platform for the exchange of goods and technologies, it also makes people more merciful and educated, and the world a much better place."
Assistant director-general of culture at UNESCO Ernesto Renato, fascinated by the Mogao Caves, commented on it as one of the most impressive things he has seen in his life. He said the creative economy, such as the cultural tourism industry, can be a powerful engine for regional economic growth, and a key factor in boosting individual creativity and gender equality.
"With rich cultural heritage, communities along the Silk Road are well-placed to tap into the enormous potential of the creative economy. UNESCO looks forward to supporting China in its efforts to develop sustainable creative economy."
The expo highlights innovation and exchange. The 32 ongoing exhibitions consist of nearly 7,000 cultural relics, artworks, art installations and cultural creative products. High-level forums have invited top experts in tourism, history, paleontology and relic restoration.