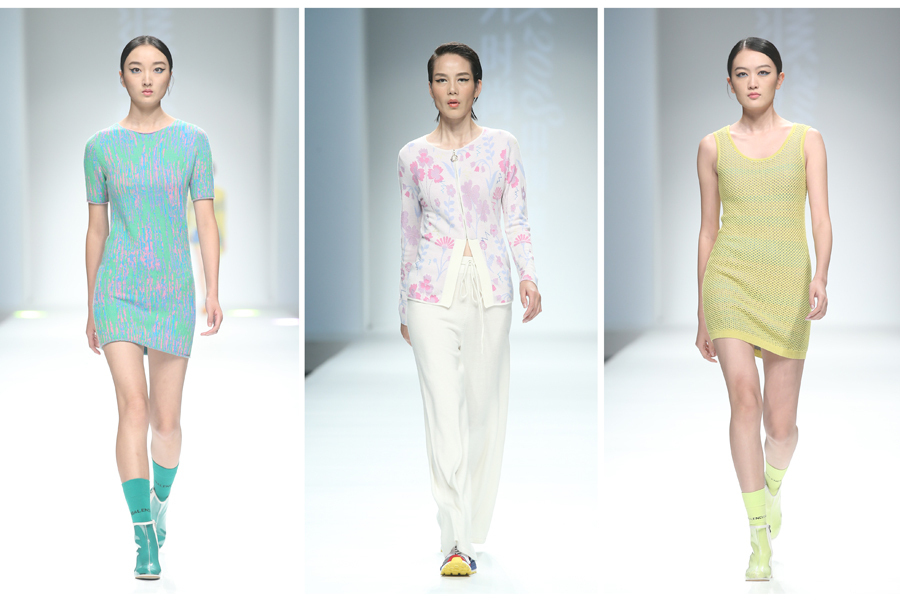 The first runway show on the opening ceremony of 2018 Puyuan Fashion Week is brought by designer Zhang Jicheng, winner of the fourth Jinding Award. [Photo provided to China Daily]
Puyuan Fashion Week set out to ensure that Tongxiang in Zhejiang province, renowned for its knitwear, is placed firmly on the global apparel map, Cheng Yuezhu reports.
With models, designers, celebrities and entrepreneurs flocking to Puyuan's central business district, the small town of Tongxiang in Zhejiang province once again proved itself as China's "knitwear fashion capital".
Organized by the China National Textile and Apparel Council and the Tongxiang government, the 2018 Puyuan Fashion Week was launched to promote Puyuan's fashion industry and enhance its competitiveness in the national apparel supply chain.
Run from Sept 15 to 20, this was the second year that Puyuan hosted its own fashion week, which included 36 events ranging from runway fashion shows to forums, lectures, exhibitions and seminars, welcoming around 500 designers, models, entrepreneurs and industry representatives.
Regarded as China's largest knitwear distribution center, Puyuan was included in the first batch of provincial and national "characteristic" towns in 2015 and 2016, respectively.
Since the establishment of the Puyuan Wool Sweater Market in 1988, Puyuan has developed a retail area of over 1.7 square kilometers that's home to 10,000 stores, and a manufacturing base that covers 11 square kilometers, according to Su Weiming, Party Committee Secretary of Puyuan and director of the market's administration committee.
"This year's fashion week aims to further integrate regional resources, incorporate elements of high-end fashion, make innovations in the value chain and build up a fashion industry cluster with a truly international influence," Su says.