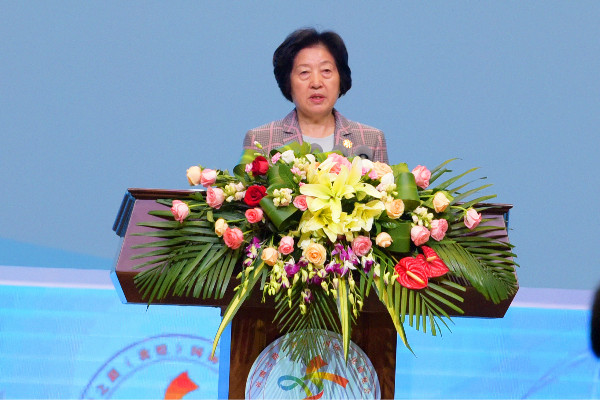 Vice-Premier Sun Chunlan delivers the keynote speech at the ceremony of the 3rd Silk Road (Dunhuang) International Cultural Expo, on Sept 27, 2018. [Photo by Wei Dezhan/provided to Chinaculture.org]
In the keynote speech, Vice-Premier Sun Chunlan underlined the unique role of Dunhuang and the expo in Chinese history. She said Dunhuang used to be the junction of Chinese civilization with Central Asia and Europe. As the only comprehensive exposition themed on BRI cultural exchanges, the Dunhuang expo has seen multiple achievements in relic conservation and international communication, as well as cultural tourism.
Sun also pointed out the value of inclusiveness and cooperation. "Since President Xi put forward the Belt and Road Initiative five years ago, China has made concrete progress showing a vision can be transformed into reality."
Harboring deep respect for cultural diversity and equality, she said China will work with other countries to build the BRI as the most inclusive cooperation platform in the world. And the Dunhuang cultural expo offers a great opportunity for people-to-people contact and mutual understanding.
Lin Duo, party secretary of Gansu province, said the expo emerged as the BRI continues its rise. Having become a signature event for the BRI, the expo will continue to connect hearts among many different walks of life.