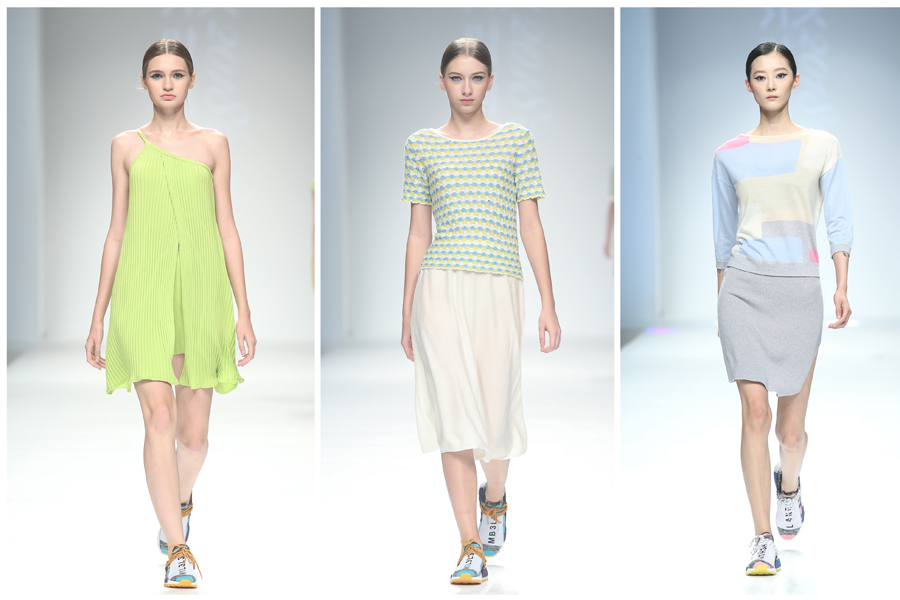 The first runway show on the opening ceremony of 2018 Puyuan Fashion Week is brought by designer Zhang Jicheng, winner of the fourth Jinding Award. [Photo provided to China Daily]
The first runway show at the opening ceremony was held by designer Zhang Jicheng, winner of the fourth Jinding Award, China's top fashion award given out by the China Fashion Association.
On the runway, Zhang presented his latest looks and vision for the 2019/20 knitwear season, which embodied the Taoist philosophy of "harmony between man and nature" through his simple and casual designs.
"This collection reflects the concept of living a natural, relaxing and simple life," Zhang explained. "Humans are intrinsically connected with nature. Therefore, all people and things should follow the laws of nature in order to reach a state of harmony."
The predominant colors in Zhang's latest collection included fresh greens and blues, bright pink and pale yellow. "We yearn to return to nature with its blue skies, white clouds, green trees and pink flowers. By integrating these natural colors into my garments, I'm trying to call on everyone to experience and enjoy life."
Attaching great importance to his choice of fabrics, Zhang uses high-end wool and cashmere yarn for his knitwear products to provide his customers with the most comfortable textures. Zhang's high standards for the materials he uses is also the main reason why he chooses to work with Puyuan artisans.
"Puyuan meets my requirements for production and textures. It supports growing businesses, has a well-established industry chain, and has strong backing from the government. I believe Puyuan has a very promising future," Zhang says.
Since 2000, the fashion industry in Puyuan has been expanding beyond knitwear to encompass other forms of fashion. Its knitwear sector has also transformed from a single-season clothing range to providing year-round products.