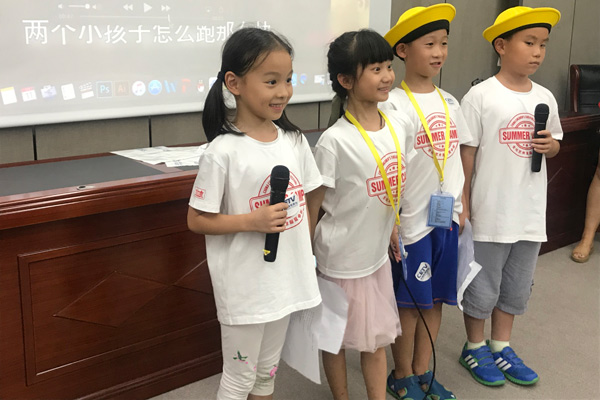 Theater practitioners from China and abroad teach Chinese students at a workshop during a recent theater festival in Beijing. [Photo provided to China Daily]
Theater practitioners from China and abroad joined a symposium on youth drama education at the 2018 Artistic Gathering of ASSITEJ, a Denmark-based international association of theater for children and young people, held in Beijing recently in tandem with the eighth China Children's Theatre Festival.
This is the first time that the ASSITEJ Artistic Gathering has been held in China. Organized by the China National Theatre for Children and the China Children's Drama Society, the forum included a roundtable conference, two panel discussions and 23 workshops on youth theater, welcoming more than 430 artists from around 46 countries.
On the theme of "imagining the future", the conference discussed children's theater across different cultures and how to envision a future for youth theater development.
"The gathering is an opportunity for communication between the East and the West. However, the dialogue is not limited to the cultural sphere, but also covers the impact culture has on children's theater," said composer Yin Xiaodong, president of CNTC and ASSITEJ China at the seminar in August.
Other speakers included Asaya Fujita, president of ASSITEJ Japan, Henrik Kohler, organizer of the Danish April Festival for the Theater for Young Audiences, and Stefan Fischer-Fels, vice-president of ASSITEJ Germany.