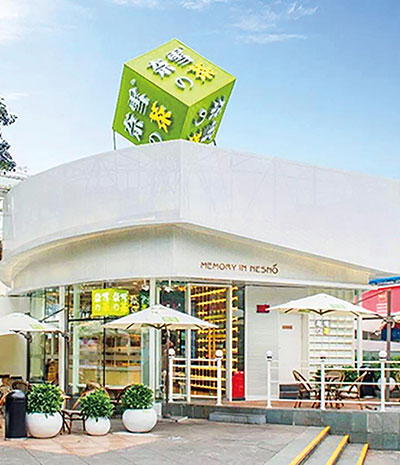 [Photo/Courtesy of Nayuki]
Nayuki's beautiful interior decor, which makes it appear like a luxury shop, is also a major draw. "When it comes to shop design, we work with different designers, artists and some influential KOLs [key opinion leaders]," explains Peng Xin, Nayuki's co-founder. "We want to develop Nayuki in a fashionable and artistic way. And we have recently been collaborating with Estée Lauder and Sulwhasoo."
The brand actually originates from a love story. Nayuki's two founders first met on a blind date and Peng told Zhao Lin, a businessman with more than ten years of experience in the food industry, about her entrepreneurial plans. It wasn't strictly business, of course – there was a happily-ever-after, as they fell in love at first sight and got married after three months.
In terms of placement, Nayuki knows its main target – almost every one of the brand's stores is located near a Starbucks. "All Nayuki shops' monthly sales figures have surpassed those of Starbucks," says Peng. "Nayuki pursues a bright, relaxing, fashionable lifestyle, which is far from Starbucks, whose main theme is dark and business-like."