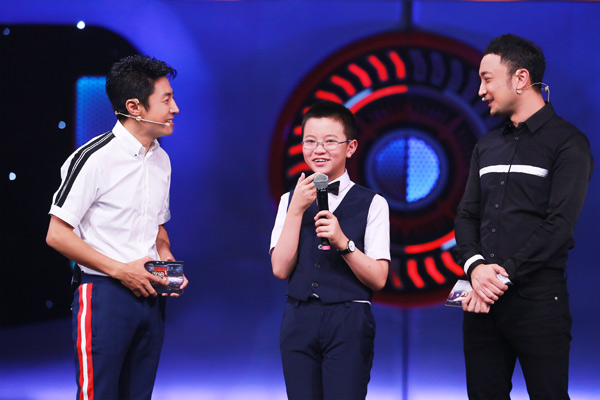 Xu Chenge (middle), 12, the youngest competitor in the upcoming third season of Cheers Sciences, is in the show with hosts Sa Beining (left) and Nigermaidi Zechman (right) [Photo provided to China Daily]
In the first season, people were surprised to find that soft chewing gum could be used to cut open a coconut. And, in the second season, leading Chinese sprinter Zhang Peimeng had a 100-meter race against a J-10 fighter jet as it took off.
Zhang may have lost that particular race, but he won a 50m dash against a training aircraft.
Celebrities often appear larger than life when they appear in the spotlight, but the joy of this show is to see them behave like wide-eyed children when they are genuinely amazed by the scientific explanations behind certain phenomenon.
In the third season, they will witness how a chick is incubated inside a glass jar in an experiment performed by a professor from the China Agricultural University, which aims to show how an embryo develops.
"Science is essentially something fun, not something we're forced to learn by teachers," Zhang Guofei, supervisor of CCTV 1, says. "It has two supportive wings: scientific research and popular science. However, our knowledge of popular science is still not deep enough.
"Shows about popular science are intended to trigger young people's interest and help motivate them about their future studies," he continues. "This will also be the key to China's revival."
A China Association for Science and Technology survey in 2015 showed that only 6.2 out of 100 Chinese people had "basic scientific literacy". However, a similar survey undertaken in the United States in 2000 showed the number to be 17 out of 100, according to Guo Tong, a producer of Cheers Sciences.
"It's essential to build up the spirit of science among the young," Guo says. "If children are exposed to TV programs that raise their consciousness, there will be more people like Chen-Ning Yang, Tu Youyou (a female Chinese medical scientist and Nobel Prize winner), and Elon Musk among them."
The production team behind the third season of Cheers Sciences is attempting something quite unprecedented: It aims to send an artificial satellite into space on the first rocket launched by a privately owned company in China.
The satellite will be exclusively used for scientific experiments, and all the experiment undertaken on board will be chosen by the public.
"I don't expect Cheers Sciences to become a viral success like other variety shows designed purely to be entertainment," Ren Xue'an, a marketing director of CCTV, says. "But I believe this kind of program will gradually nurture a solid fan base and be discussed more widely."
"The country's TV producers need to insist on looking for what is truly valuable," he says.