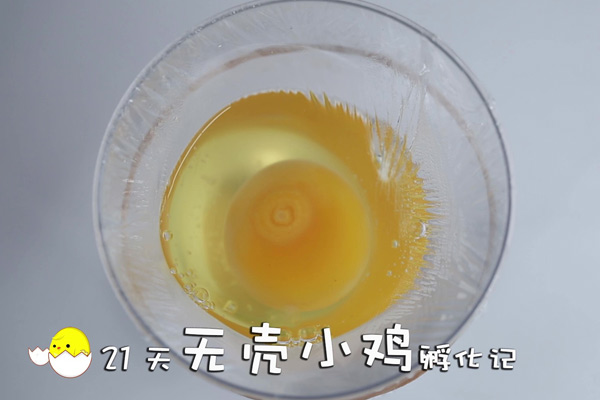 An egg being incubated in a transparent jar, as shown in the new season [Photo provided to China Daily]
"Many people have an inaccurate impression that a football flies in a straight line due to TV broadcasts," Cao Zexian, a physics researcher at the Chinese Academy of Sciences, explains. "However, a curling trajectory is more common, and Roberto Carlos' goal is a perfect example of physics in action.
"Football is also a science," Cao adds. "It shares some similarities with how rockets work. It's good to take a broad view when we observe this phenomenon."
And with the heat of the FIFA World Cup still lingering over the summer, Roberto Carlos is helping to introduce the world of science to young people through the latest series of the show.
Season three of Cheers Sciences is due to return to CCTV on Aug 12. The previous two series scored 8.8 and 8.2 points out of 10 respectively on Douban, a popular Chinese review site.
The host duo from season two, Sa Beining and Nigermaidi Zechman, will continue to compere the new series, which sees ordinary members of the public mixing with celebrity contestants as they compete in the quiz, where follow-up scientific experiments prove the answers on set.
Many of the country's national-level scientific institutions, including the Chinese Academy of Sciences, are also on hand to provide support and ensure the accuracy of information.
"Our children spend too much time learning from books," says Cao. "Hands-on experience is crucial in building up a good understanding of the world."
He notes that people have long been forced to divide knowledge into two different camps-the fields of natural science and the liberal arts. This, in turn, has led people to become defensive about their lack of understanding in either field to cover up the gap in their education.
"But there should be only one criterion: Those things you know and those you don't," Cao continues. "It's better to get rid of any prejudice and always be prepared to gain new knowledge."