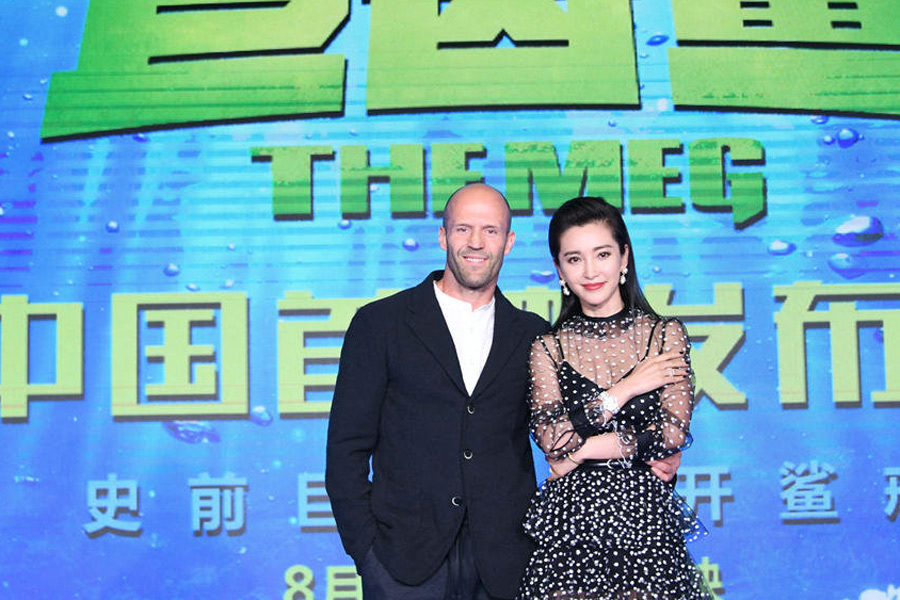 English actor Jason Statham and Chinese actress Li Bingbing at a promotional event in Beijing for the upcoming film The Meg. [Photo provided to China Daily]
Looking ahead to the year's box-office takings, some industry insiders say a good summer show could see the year's total box-office figure crossing last year's takings.
"The first seven months have grossed 38.9 billion yuan. If the rest of this year can have some hits, this year's total box-office could reach 65 billion yuan," says Rao Shuguang, secretary general of the China Film Association.
Last year's box-office takings were 55.9 billion yuan, and the figure for the first seven months of 2017 was 32.2 billion yuan.
"Domestic films accounted for 63 percent of the market share in the first half of this year," Rao says.
"Chinese audiences seem to be fed up of action-studded Hollywood blockbusters. And this change is giving more opportunities to local filmmakers."
Contact the writer at xufan@chinadaily.com.cn