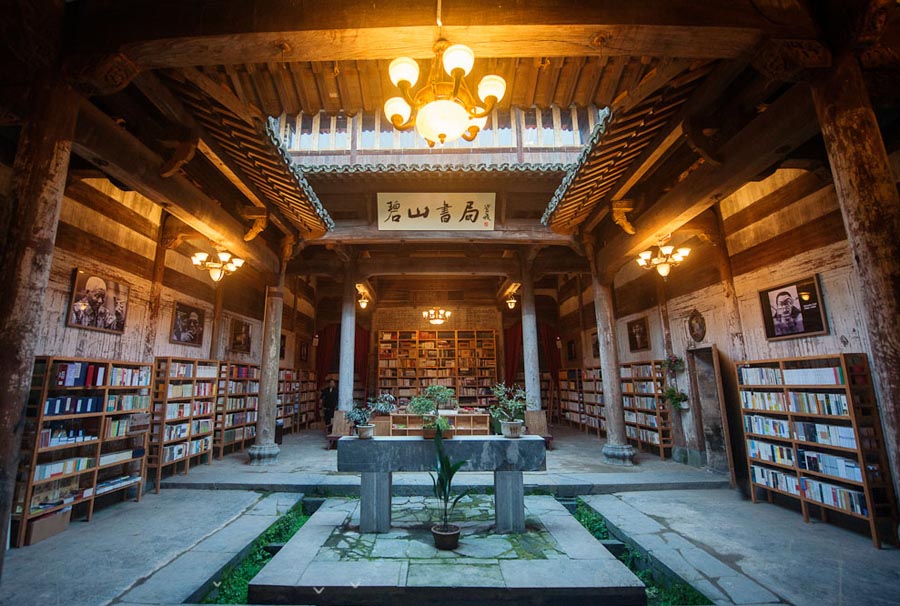 Bishan Bookstore in Anhui province opened in 2014 by Qian Xiaohua, who is best known for founding Librairie Avant-Garde in Nanjing. [PHOTO BY DIUDIU/HOU BOWEN/FOR CHINA DAILY]
The bookshop was built based on an ancient ancestral hall, Qitaitang. Qian also rebuilt the neighboring cattle shed, turning it into Niujuan (cattle shed) Cafe, which has proved to be tremendously popular.
Besides literature and arts, Bishan Bookstore provides books about rural areas in China, and old books about local culture, geography, history, customs and crafts.
An old lady surnamed Wang in Bishan village often goes to the bookshop to read. She once finished Why Farmers Leave Soil by Zhu Qizhen and Zhao Chenming in several days, and Qian says many villagers in Bishan have followed suit with that kind of reading practice and lifestyle.
Apart from books, it also offers a space for meetings, lectures, artistic exhibitions, folk music concerts and documentary screenings.