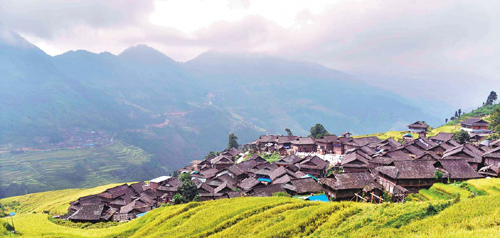 Terraced paddies and old-style farmhouses in Jiabang, Congjiang county, provide a playful paradise for photograhers and tourists alike. [PHOTO BY WU DEJUN/FOR CHINA DAILY]
Guizhou province continues with efforts to alleviate poverty in remote communities. Zhao Shijun reports.
Rural tourism and poverty alleviation will be the highlights of the 13th Tourism Industry Development Meeting of Guizhou, to be held in Congjiang county in Qiandongnan Miao and Dong autonomous prefecture on Monday, said the province's officials.
Wang Wenxue, deputy chief of the Guizhou Tourism Development Commission, told a news conference on Tuesday that the theme of the forthcoming meeting is "developing rural tourism to boost poverty alleviation".
Guizhou is a province with a number of areas where poverty relief is still a pressing task.
Mountains and hills account for a large proportion of Guizhou's landscape, which have hindered the development of agriculture and other industries.
However, Wang said the mountainous landscapes and rich ethnic culture have proven to be a big draw for tourists in recent years.
"Tourism is one of the important measures for targeted poverty alleviation," said Wang, adding that he hoped the industry can involve the participation of more of the impoverished population, helping them to get rich.
Wang said one of the goals of the meeting is to attract investment from the rest of the country and the world to fuel tourism development in Congjiang county, Qiandongnan prefecture and Guizhou province as a whole.
According to the official, 21 tourism projects for the purpose of poverty alleviation will be signed during the event, with investment totaling 68 billion yuan ($10.2 billion).
The projects cover such areas as the development of tourist destinations and construction of roads, catering and shopping facilities.
Construction and renovation of tourist destinations will be the focal point of these investment projects, including Jianhe Hot Spring Town, Danzhai Wanda Town, Xijiang Miao village, Langde Miao village and Luanli Dong village.