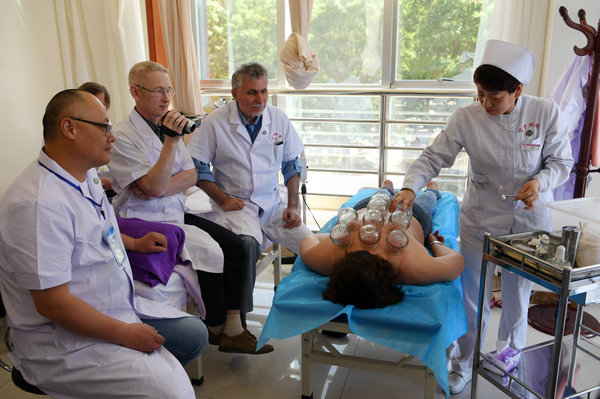 A group of Russian doctors study cupping practice at a traditional Chinese medicine hospital in Gansu province. [Photo/Xinhua]
An alliance of hospitals has been set up to enhance academic and technological exchanges among Shanghai Cooperation Organization nations and expand a telemedicine system based in northwestern China.
The move was decided at the Chinese Hospital Quality Congress, a platform for discussion on medical standardization management and clinical trials, which was held in Beijing on May 18.
Seventy-four hospitals in China have joined the SCO hospital cooperation alliance along with seven from Kyrgyzstan, Kazakhstan, Pakistan and Mongolia, according to Zhao Hongtao, deputy secretary-general of the China Hospital Association, which organized the congress. He said the alliance will develop cross-border healthcare consortium, in which SCO countries can benefit from telemedicine and transfer treatment.
"The alliance intends to encourage the practice of telemedicine in SCO countries, where there is high demand among medical workers," he said.
Telemedicine refers to the use of telecom and information technology to offer clinical care at a distance, such as through a video link, helping improve healthcare access among those living in remote communities.
In 2016, a telemedicine platform was set up in the Xinjiang Uygur autonomous region that connected 13 quality local hospitals with 17 facilities in Kyrgyzstan. Using the system, they can share medical resources and consult experts in major cities including Beijing, Shanghai and Guangzhou.
Zhao said the cooperation alliance will promote the Xinjiang system's achievements and encourage more hospitals to take part.
"We also expect more qualified hospitals in China's developed areas will join the platform so that more patients from remote areas within SCO countries can share high-class medical resources," he said.
The alliance also plans to set up a transfer treatment system for patients, especially those with complicated and severe diseases, Zhao said.
Liu Qian, director of the association, told China News Service that the alliance will not only enhance medical exchanges but also improve health governance in SCO countries.
Murzaliev Amangeldy Zholdoshbekovich, deputy health minister of Kyrgyzstan, said his country already enjoys lots of cooperation with China, including exchanges of medical experts and students.