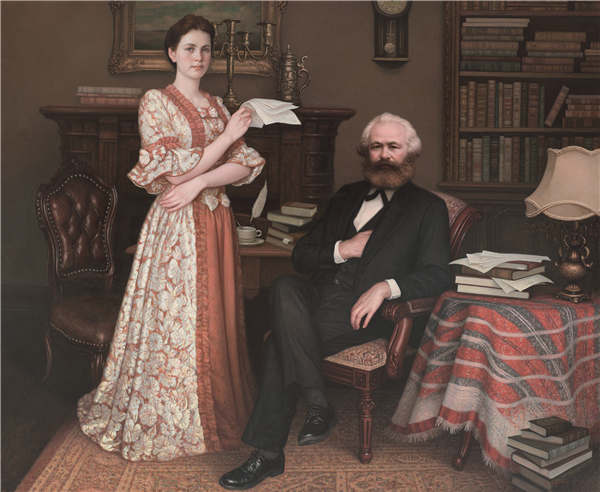 A work by Wang Nen is among the paintings on Karl Marx by Chinese artists at an ongoing exhibition in Beijing. [Photo provided to China Daily]
Among them is an ongoing exhibition titled The Power of Truth, running through Aug 5 at the National Museum of China, which gives a comprehensive look at the life and work of the German philosopher, as well as how his ideas inspired the Chinese to build a communist state.
Dozens of important documents are on show, including a copy of his well-rated high school graduation composition, copies of Marx's birth certificate signed by his father Heinrich, the certificate of his graduation from the University of Berlin and the cover of his doctoral thesis, The Difference Between the Democritean and Epicurean Philosophy of Nature, for which he was awarded a PhD by the University of Jena, in 1841.
His work at Rhineland News was an important part of Marx's career, although it lasted only one year.
There, he denounced the dictatorial regime of Prussia and defended benefits for laborers, in his writings. Copies of his articles in the Rhineland News are also on show.
One section of the exhibition has copies of the Communist Manifesto published in different languages and countries over the years, showcasing the extensive influence of Marx and his lifelong companion Frederick Engels.
Among them is a Chinese version published in 1938, with a hand-written notation by the late premier Zhou Enlai in 1943, in Yan'an, China's revolutionary cradle in Shaanxi province.
The theories of Marx and Engels are widely practiced in China. But when and how were they introduced to the Chinese?
The exhibition features a copy of an issue of Wan Guo Gong Bao (A Review of the Times) from 1899, in which the names of the two first appeared in the Chinese media.
They were mentioned in an article written by the British missionary Timothy Richard.
Another exhibit is a copy of an article by the revolutionary Zhu Zhixin (1885-1920)-recognized by the late chairman Mao Zedong as "a pioneer of the spread of Marxism in China"-on the life and work of Marx and Engels.